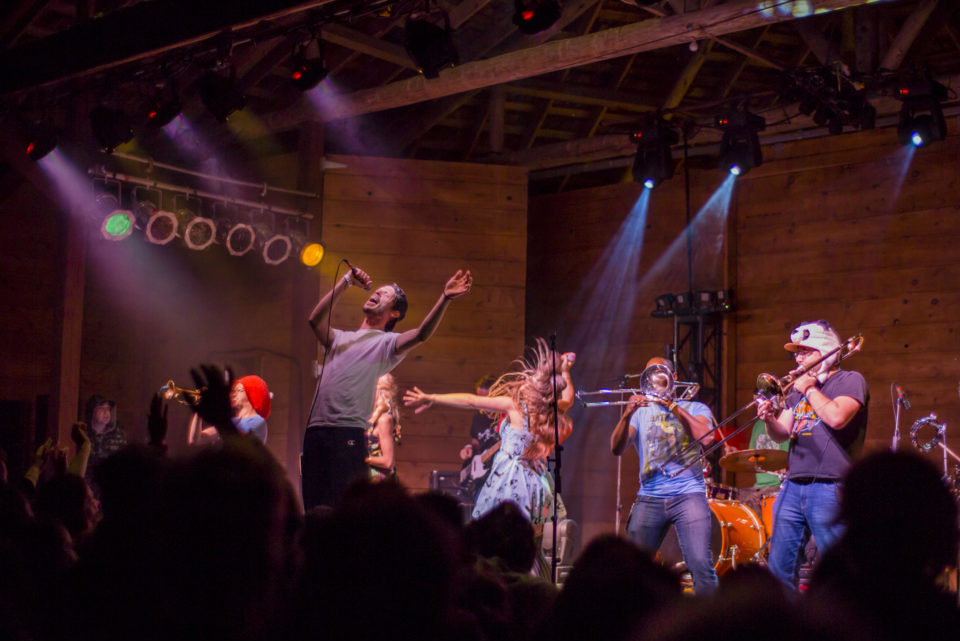 Picture this: you're in a darkly lit room in the back of a pub on a snowy Saturday night in February. It's packed so tight you can feel the body heat warming your frosty hands until they start sweating. It's the last show of a weekend long festival. Out walks a fourteen piece brass funk band from Niagara/Toronto complete with trombones, sousaphones, trumpets and saxophones. The last person to walk on stage is a tall, skinny MC with a backwards hat, infectious smile, and explosive vocabulary of rhymes. The energy from the stage sweeps across the crowd. A party erupts.
Yes, this self described "brass infused funk beast" goes by the name of My Son the Hurricane. The ringleader of this beast is drummer, Danno O'Shea, and the energetic MC I was telling you about is Jacob Bergsma, who has been described by Earshot as a person who "can playfully pluck every nerve in your body with his voice".
His voice doesn't take a break through an entire set and an then an encore…and then a second encore and when the crowd in the pub just won't let them leave, Bergsma comes out on stage and simply says "we don't know any more songs to play for you!" but then launches into the Fresh Prince of Bel Air theme song and the crowd finally lets them exit the stage.
This is the first time I saw My Son the Hurricane.
Advertisement
The second time was at Summerfolk a few years later and they had a bigger sound and larger crowd, which meant a larger dance floor. I knew what to expect this time. I had been listening to their most recent album, Is This What You Want, and had been grooving to songs like Birthday Cake, Roll With the Punches, and Bottles into Money all summer. I had been intoxicated by the female vocals on tunes like Smile, and when they walked out on stage this time, I was amazed to see fellow Owen Sounder Sylvie Kindree join them and be that voice.
Kindree is not the only Owen Sound native in the group, though. Kaelin Murphy from Owen Sound also joined the band as the youngest member. "I had been playing with Kaelin for a few years prior to that, and could vouch for his awesomeness. It's been amazing watching Kaelin burst out of his shell with MSTH; he's always been special but it's a huge blessing to see him continue to grow with each performance. We have so much fun on stage together!" Kindree says in our interview with the band.
As for Kindree's decision to join the band, "I had known some of the band members for many years, and was hooked on MSTH since the first time I saw them," she says. "They were playing a show in Owen Sound 3 years ago and had invited me to sing the hooks for a few of their songs since they didn't have a singer at the time. I made up my mind before that night that I would be a part of the band. Apparently they liked my fit cuz I went on the road with them the next morning and played every show thereafter."
It's been quite the year for this band, having gained some serious attention from Canadian music fans and hitting the road hard for their 2018 Shape of Funk to Come tour. "It's the kind of year where we show up to places we've never been and the room is full," says Danno O'Shea. "A year when young kids are singing our songs back to us, and we get to hear what the songs mean to them. A year where we just try and take in how great it is to be together on stage, to laugh with each other and travel North America."
And traveling across North America might be difficult for most large bands, but it's actually something Kindree loves. "[O]ur wacky group of musicians and crew, [are] all so wonderful in their own special ways," she tells Rrampt. "Hanging with people 24/7 for extended periods is a great way to get to know them and form special bonds (like only a 15 hour stinky car ride and downtime capers can foster). Plus we meet meet really cool people and make new friends everywhere we go, and we get to see so many different landscapes. I'm especially thankful for being welcomed on the Indigenous territories we've visited, and the ones we've been invited to for future dates."
And this tour brings them back to Summerfolk 43 to play Saturday night at the Down by the Bay Tent where they made tons of fans two years ago. "After playing festivals all across the country, I can honestly say Summerfolk is one of the best! Just being there and taking it all in is a gift, it's so welcoming and really feels like home to me. I get so inspired by the acts I catch [there]; the artists, well-known or otherwise are always top notch. And of course, playing to the huge audiences is such a high!" Kindree says.
And a huge audience is what they're going to get this summer. The've been selling out every show they've played in the Grey/Bruce area lately and are a cause for some serious booty shaking. "No dance floor is safe" the band states, and I can testify to that.
When I ask the band why their shows are so damn fun, Bergsma knows the reason: "I'm sure you've heard the phrase "misery loves company", but what they fail to mention is that misery HATES dance parties. We try to create an environment where you can leave your issues and hangups at the door and just slide into the moment," he says. He closes with the message he wants people to take away from lyrics, which have a fine balance of realism and idealism "If I had to choose one message it would be what Rufus shared with Bill and Ted on their excellent adventure: "Be excellent to each other."
At the end of their song, Grapes, on their most recent album, the band closes with the following reminder: "in the depths of shopping malls and parking lots; on the cold beaches and warm coffee shops; at a time when indifference is the norm, My Son the Hurricane, 14 piece brass beast thank you and when we ask: is this what you want? We hope you said yes."
Say yes this summer and see them at Summerfolk on August 18.
Written by Jesse Wilkinson
Feature image: Summerfolk.org