The closest I've come to foraging for mushrooms is finding a puffball while mountain biking on the West Rocks in Owen Sound. I stuffed it into my backpack, and when I got it home, it sat in my fridge until it went bad. I didn't know what to do with – I've never been wise in the ways of foraging. If I had have had Joel Grey and Hannah Harradine with me, they'd tell me exactly what to do with it. Better yet, I would just have just handed it to them, and watched as they turned it into something delicious.
Turning wild, edible food into delicious plates is their jam, and they've been doing it for foodies all over Grey Bruce Simcoe since 2019 under the moniker Sumac + Salt. The Rrampt team has been to one of their outdoor dinners at Good Family Farms in the past and rraved about the experience, so when Hannah and Joel invited us out for a foraging afternoon at their Markdale farm, we said hell yes! We loved the idea of getting a sneak peek into where their legendary dinners begin.
It wasn't puffballs we were going searching for, but morels, the treasured fungi. It's one of the most desirable wild mushrooms in the world for its flavour, texture, and appearance. I've heard a lot about foraging for this type of mushroom from friends over the years, but never spent an afternoon looking for them myself. I was keen to learn from a couple pros. For Hannah and Joel, foraging is not just an activity, it's an art.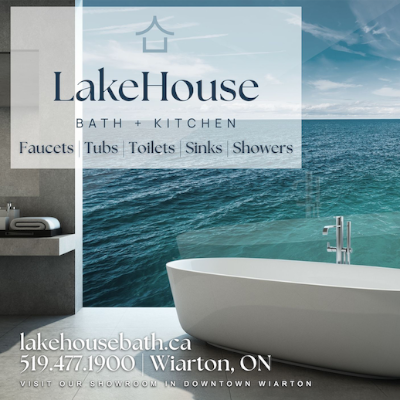 We rolled into Joel and Hannah's beautiful 50 acre farm where they live the life of true foodies – a massive garden in the backyard, huge outdoor dining table under blossoming apple trees, and an outdoor kitchen complete with wood-fired grill and prep area. There's also a rustic bar made of pallets and tin – I was taking serious mental notes for my own backyard ideas.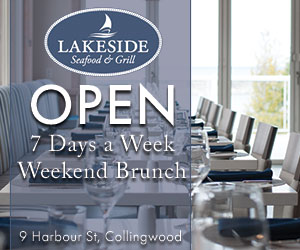 The view from their property is stunning with pathways and trails meandering through acreage where daily forages take place. When Nelson and I arrived just after lunch, we were greeted with some banana-sour beer and quickly cheers-ed to Rrampt's first foraging adventure.
The weather had been unseasonably hot the previous week and they were a little worried that would affect the wild mushrooms, which are prone to grow more in the damp weather. This was my first lesson in wild mushrooms – let's keep in mind I'm a complete rookie. But I love a walk in the woods, especially when there's a chance of coming back with some food in my backpack.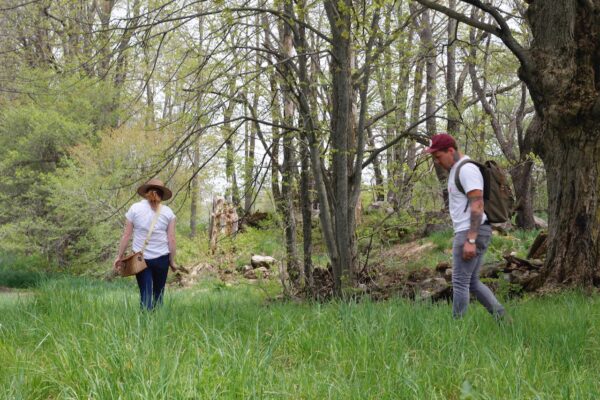 The whole philosophy behind Sumac + Salt is to bring wild and natural foods right to the kitchen table. They've been serving open-concept meals in outdoor dining areas since 2019, and during Covid they've been focusing on their catering and take-home dishes. You can pick up their meals cold to take home and plate yourself. Each meal they sell is made with local, foraged and seasonal ingredients. Check their Spring Flavours Menu available for pickup or delivery June 4th and 5th. To order one for yourself, email Hannah@sumacandsalt.com. Oh, and their merch is real slick too – you might want to add a shirt or hat to your order.
The next lesson we learned about foraging is that it's best to look for elm trees as the morels grow around them more often. And since the root systems spread out generously under ground, once you find one morel, there's bound to be more. Morels are prized because they can't be farmed – there is a relationship between these mycelium and trees that's hard to replicate. They have a nutty, earthy taste that makes them much sought after. You can sauté them, fry them, dry them, or, as Joel and Hannah often do, pickle them. They tell me they pickle almost anything, so of course I ask them if they've seen the Portlandia skit – they have.
Joel and Hannah find the first few fungi, and place them in Hannah's basket. Nelson isn't too far behind; he catches sight of a couple. I scour the ground hoping to make it a team effort, but sadly the mushroom gods are not on my side this day. I've got great eyesight but dumb luck, I guess.
The pair typically does an early morning forage as a way to start they day with some exercise, but it also ensures that no one else will snap up a new patch of morels. I had no idea that competition existed among foragers, but Joel and Hannah assure me it's all friendly and everyone's in it for the same reasons: tasty, natural food.
It's more of a mentality than anything, and one Joel picked up out East, he says. He was working in restaurants around Grey County until he packed up one day and drove to Nova Scotia for a change of scenery. That's where he learned about wild mushrooms, as well as natural edibles like wild ginger, ramps, and edible flowers. He's brought his love for foraging back to Grey County, and when he met Harradine, who has a background in viticulture and oenology, the two formed Sumac + Salt.
Since then, they've been working closely with local farmers to deliver seven-course dinners and catering on a regular basis.
Their dinners are wildly successful and often sell out very quickly. It's easy to see why as Joel and Hannah prepare a small meal using the food we just picked. They take us through their home, full of rustic sensibilities mixed with modern amenities, where they do much of the food prep for catering and dinners.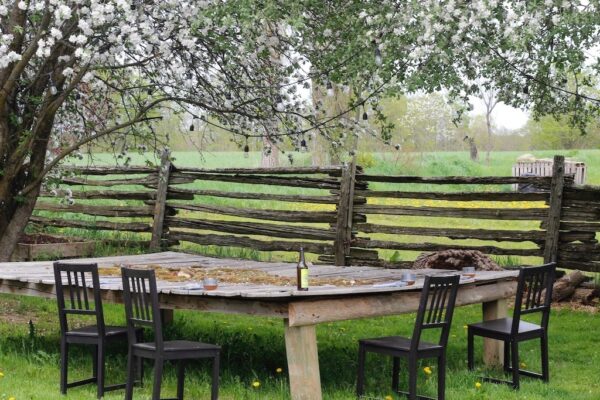 Hannah prepares focaccia bread while Joel cuts thin slices of pork belly. We head outside to get a fire going in the sheltered backyard prep area. The cubes of butter sizzle and spread across the hot pan while the pieces of focaccia warm close by.
It's really cool to see them in action – they're both in total flow state, focused on the plate they're about serve. Before long we've got "foraged things on toast" in front of us consisting of fresh focaccia, ricotta, pickled fiddleheads & asparagus, leek tops, morels & pheasant backs and house-cured pork belly. It's a perfect finish to a walk in the woods and way too delicious to eat quickly, so I take my sweet-ass time. We're not ready to carry on with our day quite yet, and linger awhile to chat. We want to hang out in their backyard all afternoon, but we know they've got things to do and thank them for the great afternoon.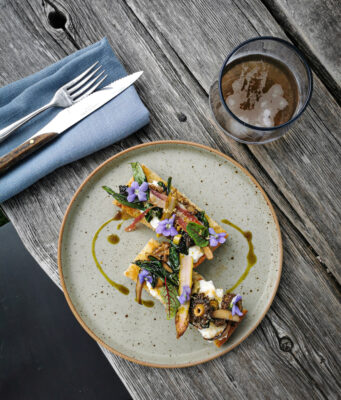 The final lesson to take from this experience is that food tastes better when you've found it yourself or grown it yourself. No question about it. It's certainly a lesson that these two learned long ago and are paying forward to food-lovers in this area. They offer an authentic experience with local, foraged food plated with care, and coupled with a mindset that suggests you slow down and enjoy the simple things in life.
And it's resonating with people all across this region, people who recognize that life is better when you've got delicious food on your plate and solid people around your table. Sumac + Salt embodies both those things well.
Written by Jesse Wilkinson
Photos by Jesse Wilkinson and Nelson Phillips