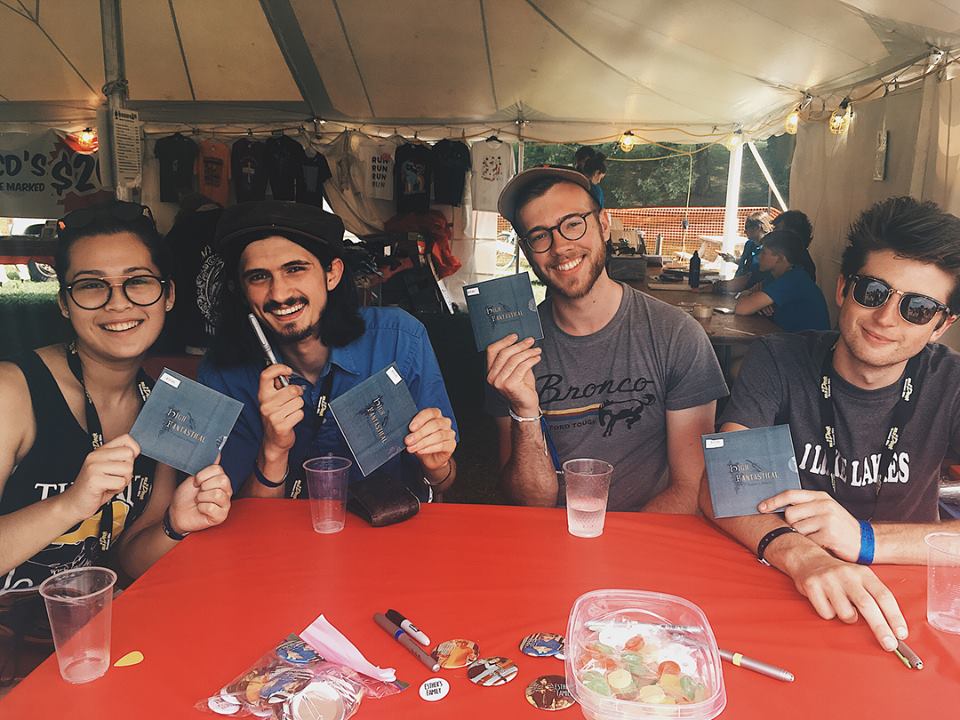 "It keeps it fresh, keeps it easy" Lliam from Esther's Family says as he describes how talented his bandmates are. I met up with the young collective recently where they placed a copy of their newly minted EP, High Fantastical, into my music-lovin' hands.
It's an album they just released last month and one I've been listening to the past few weeks. It's a promising debut with folk traditions infused with pop sensibilities of bands like Bare Naked Ladies, who they joke about becoming a cover band for.
But I also find comparisons to more contemporary artists like Tim Moxam, who seems like an influence on Nothing. They set themselves apart in many ways, though, one of which is their lyrical stylings that bridges the old with the new quite seamlessly. For instance, Gabrielle takes a page from the old folk tune Dink's Song in the use of 'fare thee well' while also using a picking style of contemporary bluegrass that made Mumford and Sons famous.
The first song, High Fantastical, is a listening experience that draws on the ups and downs of love using the analogy of a drug and its withdrawal. But the standout on this debut is the beautifully crafted Genial Rays. It's a sleepy song, until it isn't, and the gradual build is one you didn't notice until you're wide awake with it ready to shout along.
Advertisement
My first question for them should have been: who is Esther? It wasn't. I had other things on my mind – like what it was like playing Summerfolk – a dream of many young artists. And what kind of vision they have for their music now that they've got an EP out.
"We're a collective. My dream is to just keep growing," Lliam says after he introduces Jared, Karl, Becca, and Keegan. "If we're playing a gig in a town where certain people are, they can just come join in with us." They are, in a sense, a close knit crew in proximity for sure, all hailing from London, and most attending Fanshawe College.
They've been jamming together for three years and working on the EP for a year and a half, and this was their first summer doing festivals. They're building a fan base slowly, even though they've started off their career with a bang by landing the Summerfolk slot this past summer.
During our conversation, I never did find out who Esther was, but at least I found out where the 'family' came from. "We wanted to come off as a group of home-schooled kids who played the county fair," Lliam says explaining that other names like the Johnson Family were already taken.
I think the Johnson Family would have been too boring anyways. I'd say Esther is just perfect – old-timey, but cool in a hipster kind of way, just like their sound.
You can find their new album at the following link: Esther's Family
Written by Jesse Wilkinson
Photos provided by the artist