People say a lot of things about Owen Sound. It's either too cold, too shady, too tough, too empty, or too under construction. My city is either too much of something, or not enough of another – but that's why I think so many people are recognizing its untapped potential.
Owen Sound has a laid back perspective that's set this Great Lakes town up for its many successes, and for the odd bureaucratic Donnybrook. Sometimes she wins, and sometimes she loses. Our history is littered with these reminders – but more on that later.
I'm boarding the Beer Bus out front of the Owen Sound Tourism Visitor Centre on the west wall of the harbour. It's Sunday morning, I'm hungover – fresh from a bachelor party, and I'm here to drink more beer and cider as we traverse a trail of, shall we say, unique municipal accolades. But I'm an Owen Sounder, and that's kinda fitting, as those people who like to talk might say.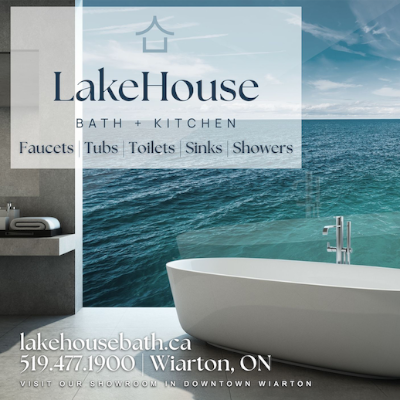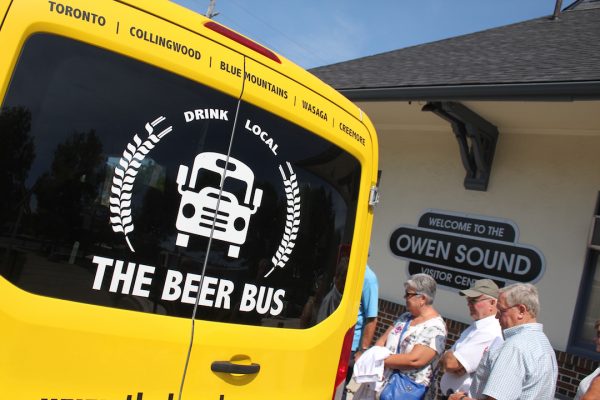 Owen Sound got herself into trouble with the drink once upon a time, and our national reputation was dragged through the mud as a result – Richard J. Thomas' book Saints and Sinners: The Story of Owen Sound – Canada's Last Dry City, will emphatically show you that. It was a rough-and-tumble place where the booze ran free and where every man had carried a corkscrew in their pocket. That reputation led to the moniker, Corkscrew City, paying homage to the culture of drink here, and where two street corners – aptly named Salvation and Damnation – would battle it out over the next 60+ years, locking citizens in a push-and-pull relationship with the law and with a newfound culture of bootlegging.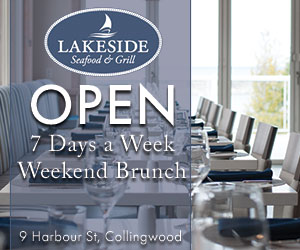 The Corkscrew City Tour is a unique historical tour of Canada's last dry city, focusing directly on Owen Sound's 66-year history of illegal bootlegging, drunkenness, fightin', temperance, and prohibition. During the years prior to Prohibition taking hold in 1906, and then known as Sydenham, the saloons and barrooms in Owen Sound were open 24 hours per day, sailors came to port and indulged in whisky, beer, and women; picture the Canadian version of the Pirate port of Tortuga. The dirt streets of the valley apparently ran with blood, vomit, and mud every weekend – the black coal-soaked tugs and schooners would come and go from the open waters of Georgian Bay, bringing in a constant stream of thirsty sailors to shine the bartops with the sleeves of their coats.
Historian Richard Thomas leads our group to its first stop – the Kilannan Brewing Company in Rockford, just south of town. I've reviewed brewmaster Spencer Wareham's beers before, and I'm a big fan. His Altbier is one of my personal favourites, but his offshoot iterations of his flagship Kolsch and Alt brews are truly special – whether they're aged in bourbon barrels, or infused with cucumber or fresh orange juice. Spencer opened Kilannan in 2012 at the age of 22, then as Ontario's youngest brewmaster, and the first to open a brewery in Owen Sound in over half a century.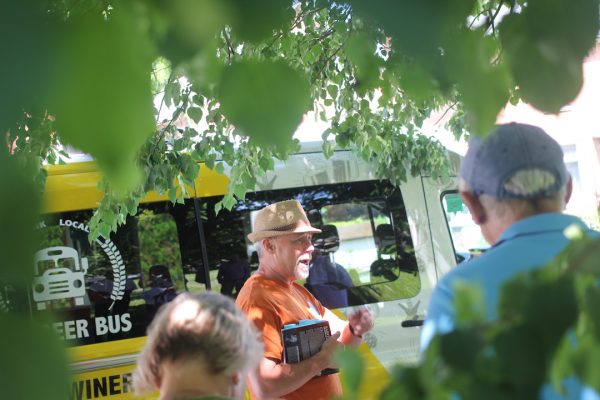 Next up is a look at Salvation and Damnation corners where Thomas spews a wealth of jaw-dropping local stories about brothels, backhanded breweries, illegal speakeasies, and historical connections to Chi-town's infamous bootlegger extraordinaire, Al Capone.
Thomas, now a City of Owen Sound councilor as well, may as well be our official local historian. He's got a passion for relaying the unbridled authenticity of this place – and I appreciate his dedication to revealing the good, the bad and the ugly – where other towns and historical tours may seek to hide or downplay the black spots of the past from the history books – here, that info is front row centre – Richard understands history isn't always pretty, but there's something weirdly charming about hearing how locals would eagerly row their fishing Dory's to Collingwood to drag a barrel of cheap whisky all the way back to OS – or how the unpotable water of Owen Sound's swamp-like topography back in the late 1800s meant school children received a whisky ration to safely drink throughout the day – sipped from a hollowed-out log by the door. O Canada.
Next is the live theatre portion of the tour, profiling the Christian Women's Temperance Union who formed in 1876 to push the demon drink back into the shadows. We're greeted by actors from the world-class Roxy Little Theatre who lead our group through a mock rally, asking us to sign a pledge to abstain from alcohol. I respectfully refuse.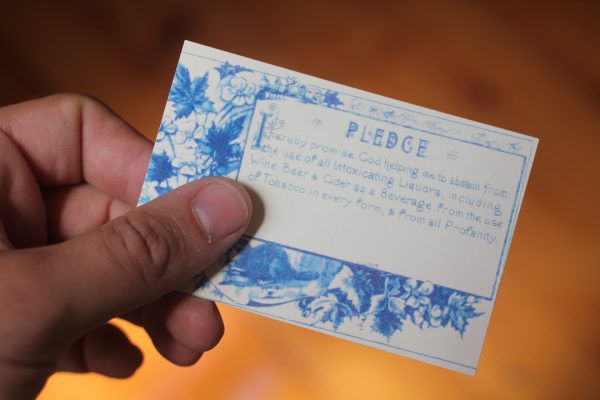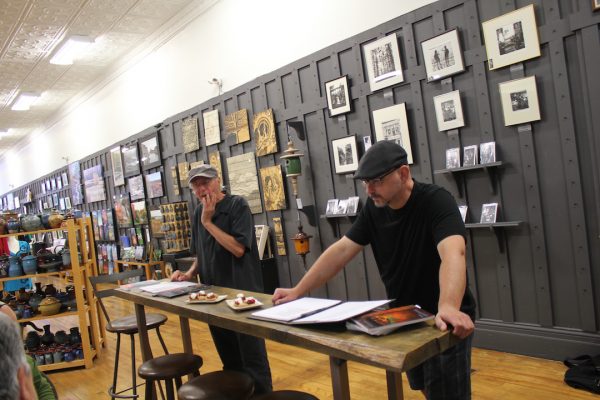 Next is the Artist's Co-op downtown, where we're treated to a sampling of local cider courtesy of Coffin Ridge Boutique Winery and a myriad of bewitching poems from former Owen Sound Poet Laureate, Rob Rolfe, and Richard Yves-Sitoski. They wax poetic about the populations of hard-working local Scots, Irish, Metis, and Black populations who would toil in factories, shovel and break their backs on ships, and drag their boots through the mud after a long hard day – having earned a distilled dram of respite.
Onward we trek to Mudtown Station, for a behind-the-scenes brewery tour of Morag Kloeze's harbourside brewhouse, residing in the former CPR rail station. We sip flights of local craft beer and sample delicious local fare while staring at the black waters of Owen Sound's harbour, the same storied tributary that brought legions of thirsty sinners in from the Bay all those years ago. Cheers.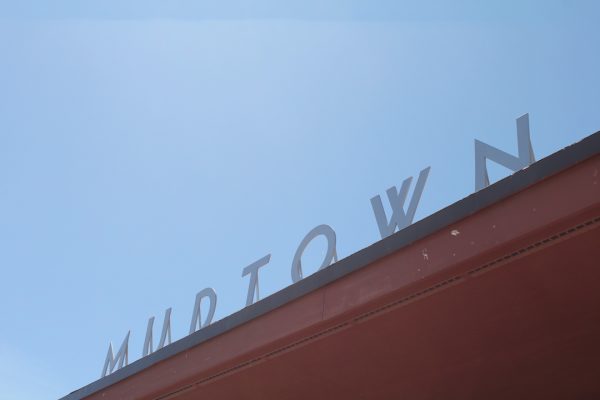 I rarely trekked over to the west side growing up, but when I did in my late teens, I found new people and a few new tidbits of cultural influence. Namely, the music of John Prine. If you're not familiar, in his hay-day, Prine was a pretty gnarly dude who emerged from the American mid-west in the late '60s, wrote a catalog of honest, hard-nosed and poetic songs that touch on addiction, loneliness, blue-collar work ethic, and the aura of a good time.
John Prine would've loved Owen Sound.
His song "Dear Abby," holds one particular line, that repeats every second verse: "you are what you are, and you ain't what you ain't." That's true of Owen Sound, and that's A-OK — our history is incredibly rich, worthy of discussion, and apparently very welcome by the multitude of sold-out Corkscrew City tours that have already taken place, and will continue to take place all summer long, and into our future. The idea of honesty and lightheartedness in historical tourism may still be a relatively new one, but this particular experience is chalked full of laughs, a deep understanding of local culture, and is steeped in impressive artistic professionalism. It's rare something like a bus tour could so seamlessly integrate the performing arts, the brewing industry, Canadian history, and tell a good story as compelling as it does.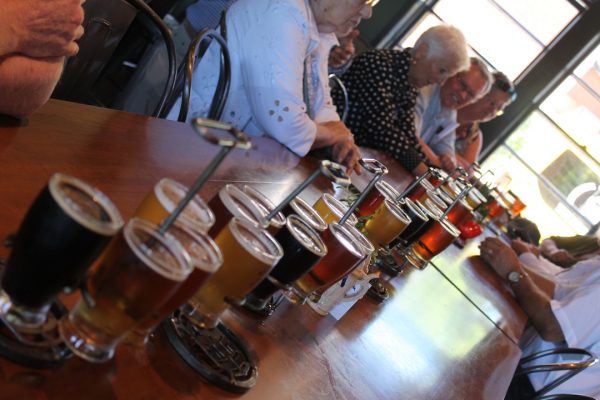 This place was a wild pioneering town. C'est la vie. The battle of prohibition raged here for longer than anywhere else in the Great White North, and those now-healed battle scars are proudly showcased in the Corkscrew City Tour. As an Owen Sounder myself, I feel fortunate to live in a place that's so comfortable sharing its past. This place isn't perfect – but it doesn't have to be. Shying away from this reality only disgruntles the spirits and lives impacted by history, and to them, we owe this authentic approach to experiential tourism. Perhaps all histories shouldn't be celebrated, per se – but forgotten? Never.
This tour signals a new era of destination-specific tourism for Owen Sound. The arts and culture community here is second to none, and having the ability to speak from its heart is helping to showcase the honesty and splendor of life under the elephant's tail. Along with the musical royalty of the Summerfolk Music and Crafts Festival, the emergence of world-class breweries and restaurants, and the revival of the downtown core courtesy of the upcoming Downtown River Precinct, we're squarely positioned to earn a new kind of reputation – based on a solid foundation of learning, community, and second chances.
The Corkscrew City Tour gets two ice-cold pints way up from me.
—
Words & photos by Nelson Phillips