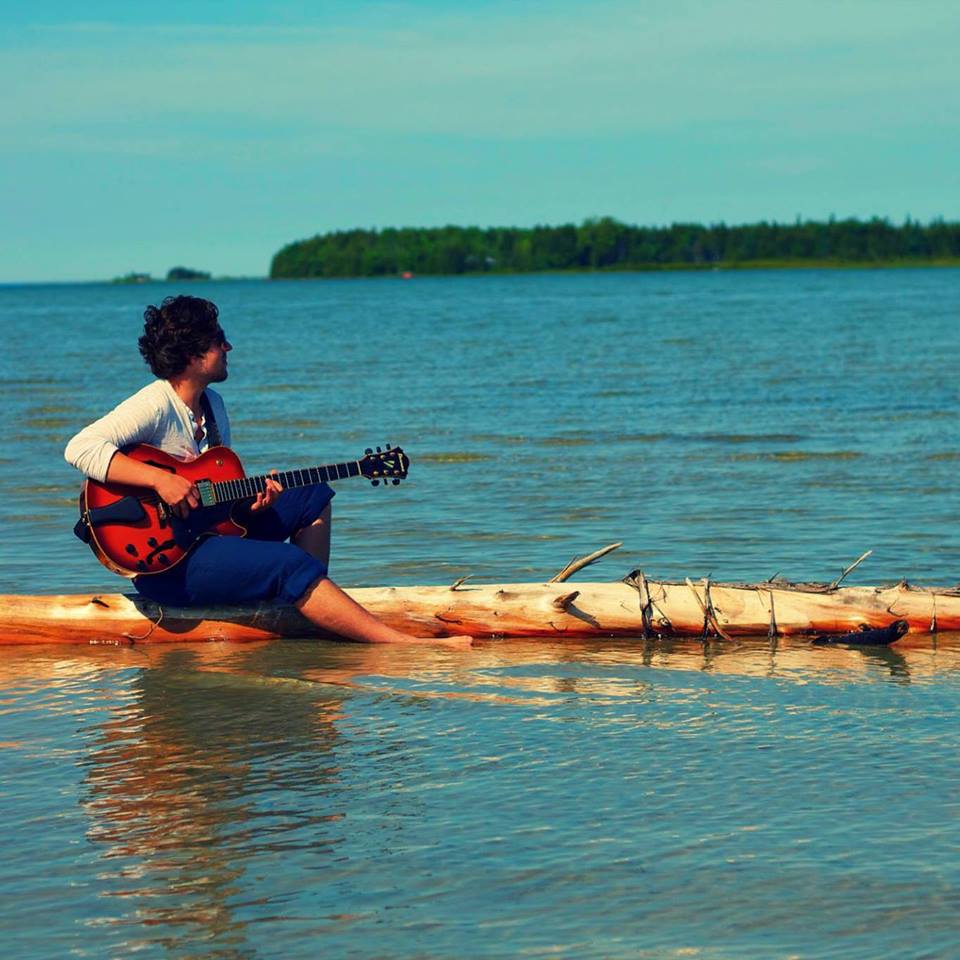 Photo: Amber Vee
"I really like the sound of yacht-rock" Andrew says as we're sitting over a beer before his sound check.  It's actually just me drinking since he's got to work a bar shift after his set – typical of a young aspiring musician. He's gotta pay the rent on his house in Guelph, one that he shares with a group of young musicians.  His music isn't paying the bills yet, but he's just starting out, and judging from his songwriting abilities and smooth voice, he's got a promising career ahead of him, whether it's playing yacht rock or whatever you'd call his sound. What's in a name right?
"I'd like to consider myself more of a folk artist" he follows up.  "After seeing Andy Shauf play at Hillside this past summer, I've been inspired to play my acoustic guitar more."
And it was his acoustic he had strapped to him as he set to the stage in his second opening slot at the Heartwood Hall. Tonight it was for the Toronto band Provincial Lines; this past summer it was for Alysha Brilla. He's also played the Horseshoe Tavern and The Cameron House in Toronto and has appeared numerous times in small venues like the Bleeding Carrot and Mossy Gatherings in Owen Sound. He recently won a spot on Summerfolk Festival's Youth Discovery Series where he met other talented artists, one in particular named Missy, who is a constant muse. He has worked with a band in the past and is looking to form one again soon for an album he's working on.
Advertisement
But for right now, he's building his stage presence and negotiating his set lists. He's written three new songs, which he's excited to unveil tonight because they are more indicative of where he's at as a songwriter.  "My songwriting has evolved from a lot of my older songs I'm still playing" he says. "I'm going to start phasing those songs out as I write more."
But tonight we got a balance of old and new Nunno. He opened with one of his early efforts,  Breakin In Ain't Breakin Up, which includes the lines "We got no money but we'll make do/You know/Who needs money when I got my honey by my side" which signals a theme in his songwriting: he writes about love, because, well, he is in love. He met his girlfriend at the Summerfolk Series, and crafts beautiful arrangements about her eyes, her kisses, and her mystery. But he recognizes the need for his songwriting to expand. "It's easy to write about love and fun stuff" he admits, and is looking to take on other concepts in the future.
While, his newest song, and one he closed his set with, The Flame & The Ocean, is about his relationship, it is an evolution from his earlier stuff as it navigates the complexities and delicate balance of sharing your life with someone and uses strong imagery and conceit to do it.  He looks most relaxed playing this one, giving signs of his showmanship with arm dangling between verses. It has an elegant opening riff that hints of a Bahamas influence. A more direct homage to Bahamas comes in the form of a Lost in the Light cover, which he plays second in the set. When that iconic 'da-dummmm' fills the air, my friend turns to me and says 'Great choice!' And it is for Nunno because he's a skilled guitar player, and can add his own vocal inflections to make it his own.
Hey Missy is another new one, and an ode to his girl. It contains his catchiest chorus and one that will prove to be a fan favourite in his live shows.  See Her Now is one of my favourites. It's got dreamy guitar and a simple back-beat; it takes its time and is fun lyrically in such metrically delightful lines as "She'll take you by surprise/Her beautiful eyes". (See Her Now).
Overall, it seems Nunno is really enjoying life and this comes through in conversation with him; it comes through in his live show; and it comes through in his songs. He may feel it is easy to write about 'fun stuff' but he does it well. There are plenty of songwriters out there that cover the heavy stuff, the sad stuff, the heartbreak. We need more songs about the fun stuff.  And come September, when Nunno is planning to release his first LP, we may just have a whole album of songs that make us smile. Whether he's a yacht rocker or a folk artist, it's a debate I'll leave to the audience members at Hillside in future years when he graces the stage with his acoustic guitar strapped tightly, a set list of new songs, and some great stories about love.
You can listen to a sample of Nunno's older songs here at the link below, but for his newer stuff, you're going to have attend his live show.  I encourage it.
Written by Jesse Wilkinson