Wasted Shirt – Fungus II
Ty Segall and Brian Chippendale have long been purveyors of sonic weirdness, so it should come as no surprise that they would deliver more of the same having joined forces under the guise of Wasted Shirt. Chippendale has spent the past 2 and a bit decades striking fear into the heart of any drum kit that dares look at him the wrong way, playing in noise-rock duo Lightning Bolt, who released their most recent effort "Sonic Citadel" in 2019 (check out December's Rranting & Rraving article for more). Ty Segall has been honing his craft in his eponymous project as well as FUZZ having most recently released "First Taste" in 2019.
The duo waste no time getting down to business on album opener "All Is Lost" starting with a caterwauling howl and ear-shredding solo. Fans of either or both musicians will be more than happy to hear that this project sounds almost exactly as expected. The animalistic drumming style of Brian Chippendale carries the hilariously named track "Zeppelin 5" so Segall can swap between screeching guitar and crushingly fuzzy bass (seriously the bass tone is disgusting in the best ways). Segall plays most of the instruments on "Fungus II" while splitting vocal duties with Chippendale although it's not much responsibility on this track as the lyrics sound like something Randy Marsh from South Park would hum in the shower, "du du du du du do do do do do".
"Fist Is My Ward" sounds like bastardized Black-Metal spinning on 33 ⅓ while the vocals remain intact. The whole song is wrapped in an almost ominous energy while Segall's overly effected instruments weave their way throughout. We'll skip ahead a bit to "The Purple One", this track sounds like George Michael was having a bad trip while recording "Faith", it starts off rather pleasantly until Chippendale bulldozes over it and Segall is forced to keep up.
"Eagle Slaughters Graduation" (god would I love to know the origin of that song title) is a psychedelic onslaught, Chippendale playing like a muzzled lion…still vicious but one wrong move and you're done for, while Segall rips some fuzzy, phased out riffage on guitar while toning the bass down to a hypnotic drone. The album closer "Four Strangers Enter The Cement At Dusk" would make Black Sabbath proud, the first half of the song sounds like some teenage heshers trying to summon Beezlebub until the ceremony is ruined by the spilling of bongwater. Hilariously enough the lyrics that follow are "this is your fault" repeated until Segall manages to replicate the sound of anxiety through his six-string…the type of riff that makes you check over your shoulder……
Advertisement
---
Kitjohari – The Summer Always Ends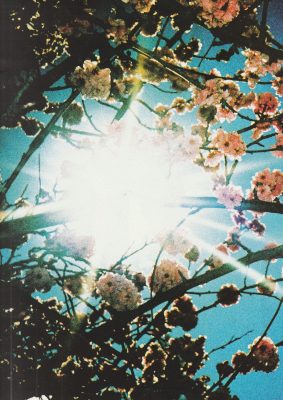 Kitjohari, the alias of Kitchener-Waterloo based Chris Harry, has finally unleashed (with the help of Brent from Glue Gun Records poking and prodding) his debut effort 2 years in the making as a producer with "The Summer Always Ends". The 8-track effort flawlessly executes samples from a wide array of genres featuring artists such as Sade, My Bloody Valentine, and Wesley Willis….WHAT!
"His Arms Were On Fire" starts with some somber piano and a spoken-word piece from the film Paris, Texas starring Harry Dean Stanton. There's a stark contrast between the song and the rest of the album that doesn't go unnoticed by Harry, as the album is the end result of trying to get over a romantic tragedy he was enduring at the time, the rest of the songs are very upbeat full of great beats and good vibes.
"No More Papers" is a perfect example, the slinky guitar of Wes Montgomery over the kind of beat that really gets you moving. It's like being stuck in traffic and your favourite song comes on the radio to remind you that life is worth living. Songs like "Peace, Brother" and "K Sridhar 2" could easily make your Friday night playlist. The title track "The Summer Always Ends" is the perfect comedown from the rest of the album before the lights come on at last call.
While the samples from this album were taken from Youtube, Harry tells me he hopes to start ripping from vinyl ASAP. I'm very much looking forward to hearing the record collection of a guy who drums in screamo outfit Karloff, plays in improvised act Yumster, and used to host a jazz radio program.
It's also worth noting that all sales from digital downloads and cassette sales go to support the Women's Crisis Services Of Waterloo Region.
---
Eye Flys – Tub of Lard
We are most certainly living in trying and uncertain times. Covid-19 has forced us all inside trying to find ways to spend our time; luckily Eye Flys (hell yeah named after The Melvins song) are here to put you through the emotional meatgrinder. After releasing their punishing debut EP "Context" in 2019, Eye Flys is back with "Tub Of Lard", 10 tracks of head-banging sludge anthems that'll knock you in the dirt. The lyrics tackle issues such as body shaming, misogyny, anxiety, and agnosticism…the opposite of celebrities singing John Lennon's "Imagine".
The album opens with "Tubba Lard", a perfect opening track that you and your pets can mosh to while self-isolated. It wastes no time bringing out the big riffs, the 4 piece outfit pummels the main riff while occasionally breaking to add some angular noise and ends with almost a full minute of harsh feedback. The ironically titled "Not Ready For Tomorrow" starts with a stabbing guitar riff and some drum fills, before the band locks in for another crushing tune. Something I love about this album is that it doesn't rely on layers and layers of guitar, the bass is right up front in the mix and this track is no different.
Tracks like "Reality Tunnel" and "Nice Guy" will bring you right back to the '90s when bands like Unsane and Helmet were taking their toll on your eardrums while you flipped through the latest copy of Thrasher Magazine. "Chapel Perilous" features a blistering lead riff right out of the gate and leaps into a biting bass-driven burst of punk-rock energy…this is a track you'll be playing over and over again.
"BLS" like most of the songs features some pretty creative rhythms, it's certainly not a prog album, but it definitely adds a lot to the verse-chorus-verse-chorus format. This is a very "meat (or portobello patty) and potatoes" song clocking in a whopping 1:25, but you'll need every second to catch your breath. "Tub Of Lard" closes with "Perception Is A Gamble", an unexpected but more than welcome instrumental song. Instead of playing a million notes and playing in time signatures that sound made up the band plays to their strengths. The rhythm section drags us through the mud while the guitars cut through with hazy dissonant leads.
In short "Tub of Lard" is absolutely filthy, if you weren't already washing and sanitizing your hand's, Eye Flys will certainly give you the extra kick in the ass you needed.
---
Written by Russ Walsh, owner of Sour Cat Records. Sour Cat Records does Online ordering through their website:https://sourcatrecords.com/
---