Collingwood's newest micro-hotel and retreat space, 11 Rooms, is a place with palpable electricity that draws you in. I would know – I recently experienced that energy during a visit to this beautiful and historic spot on Saint Paul Street, just around the corner from the downtown core. Put simply, it's a place for connection and creativity.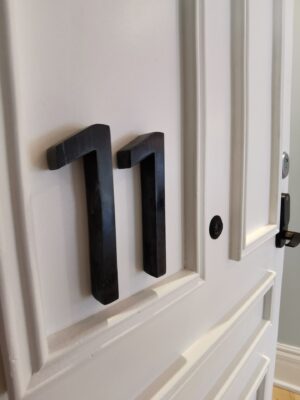 "The project has taken about a year and a half and we're not quite finished," says Sandra Kahale, one of the owners of 11 Rooms. Along with her husband Peter and close friends Amy and Trevor Bond, 11 Rooms has been a labour of love and imagination. To create a space that feels a magical home away from home for guests and visitors alike is pretty darn awesome according to Kahale.
"We wanted each room to be its own universe."
"We really designed the space to facilitate connection, inspiration and creativity. I think there's going to be a lot of interesting different uses for this space and we have tried to make it as comfortable as we can for different groups," she says.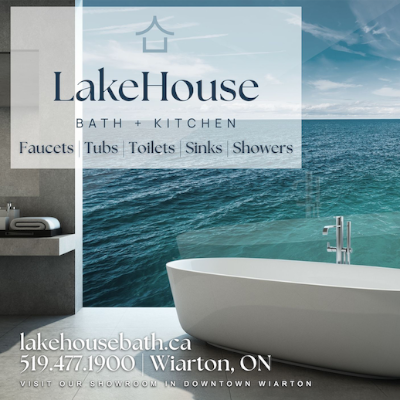 The building was a rooming house for many years, which laid a perfect foundation to be transformed into this experiential stay and retreat spot. Each room has its own unique layout and design with private washrooms in each one. "People are drawn to different rooms and they respond to different rooms," says Kahale. "So we wanted to create something that offered a unique experience to each person depending on what someone needs in that moment, either for relaxation or inspiration. We wanted each room to be its own universe."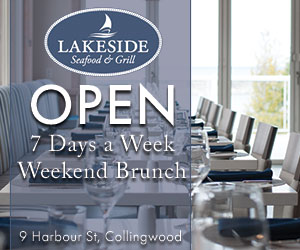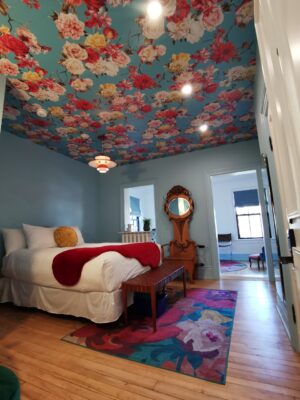 They worked hard to preserve the integrity and old-world detail of the building while also adding an eclectic and handmade feel to the space. 11 Rooms features the original hardwood floors, the original banister, and they even restored the old radiators that are featured throughout the retreat space. Layered into the design are stunning colours, funky chandeliers, beautiful wallpaper, and lush textures but all of the components are very functional for work and play.
"Part of our mantra has been flexible spaces and stays, which is really important to us. You can move the space to suit your needs – move furniture around or whatever you need. Everything was bought with the idea it could move around and be interchanged. You can shape the environment to your own needs."
Amy Bond, whose award-winning glass blowing designs have been exhibited internationally, had a huge part in the design of the space. The knobs on the cabinets are all blown glass created by the artist, alongside many other handmade creations. With a keen eye for detail, Amy also designed and planned out the intricate pattern of the floor tiles found in different spots around the entire space.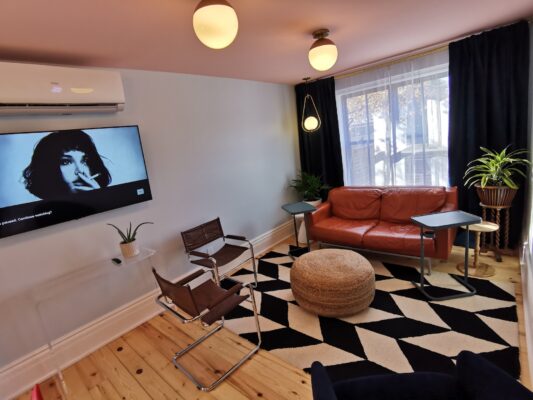 "She is wonderful to have on our team because she can take a blank slate and knows exactly what needs to happen there. There's a lot of care, intention and attention to detail. We want you to feel held by the space," says Kahale.
When spending time with Sandra, it's difficult to ignore the warmth she exudes, something that is mimicked by the entire hotel. You don't just want to visit; you want to stay. "I've hosted networking events for entrepreneurs at our cottage and our place in the city and Peter and I were getting a lot of feedback from people saying it would be so great if this was a sleepover, or this would be so great if this were a summer camp," she says. "So it was an idea we had, almost like planting a little seed, and it got further developed as we started creating this space."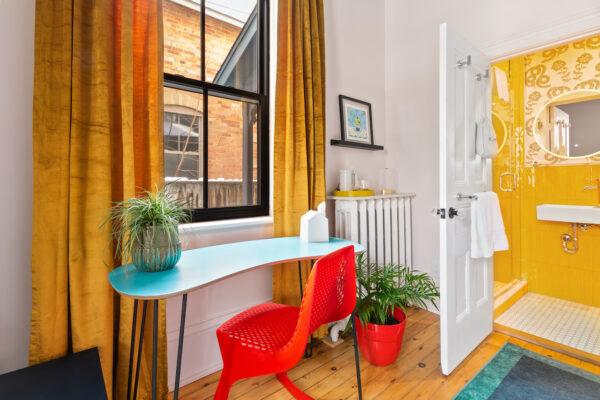 So why Collingwood specifically? "I've lived in a lot of places in the world, and there is no place that has my heart like this place. There's just something about it. With the Bay, the mountain and the trees, I really feel a connection to the landscape."
As for the future of 11 Rooms, the possibilities are truly endless. "I really want to see this become a community hub of activities and salons talking about ideas and issues, a place of collaboration. This is a place where people can think creatively and be outside of their environment and also come together and feel connected," says Kahale.
It's easy to envision small and intimate gatherings in the common living room, food trucks outside with people sprawled out on the lawn, small concerts, and retreats. It is a beautiful addition to the Collingwood community and local culture. I highly encourage you to check it out and experience the magic for yourself.
Their official website is close to being completed but not yet live. The best way to reach out and explore the beauty of 11 Rooms is to follow them on Instagram at @11roomscollingwood.
Written by Nicole Bishop