Your Weekend Cocktail: Love at First Sight
By: Jules Torti
I recently tasked Harrowsmith's Food Editor, Signe Langford, with a wobbly assignment. Could she create a signature cocktail for my memoir, Free to a Good Home: With Room for Improvement (Caitlin Press)? I was 100% inspired by the likes of Toronto's Famous Last Words, Junction neighbourhood local designed for bookish-types. It's books and booze under one stylish roof! Founded by Marlene Thorne, the bar's cocktail lists is truly 'lit.' Book clubs are invited to reserve a table and Famous Last Words will create a custom cocktail based on the novel under dissection.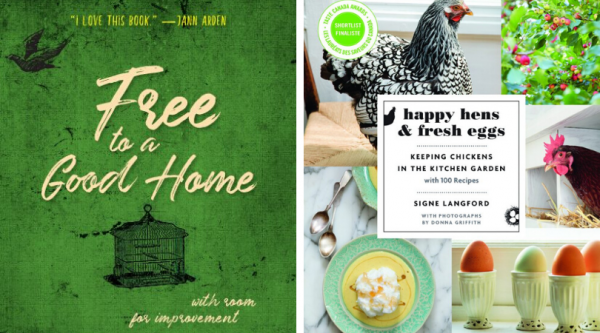 Small circle story: I reviewed Langford's gorgeous cookbook, Happy Hens & Fresh Eggs (Douglas & McIntyre) in Harrowsmith's Fall 2017 issue and, well, look at us now! Signe joined the Harrowsmith team and I found my own personal cocktail concocter!
Thanks in part to the pandemic, most everyone has become a day drinker, so, it's an ideal day to release this signature cocktail! Appropriately dubbed "Love at First Sight," here's the (short and sweet) story of how the cocktail came to be and the recipe.
Can I Buy you a Drink?
By: Signe Langford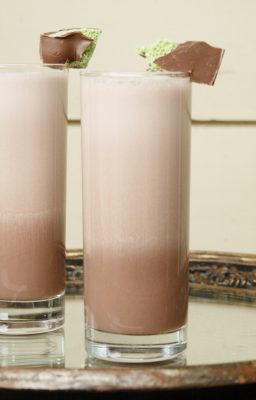 Some books are filled with words that appeal to the mind, and some you can almost taste, where on every few pages the author has strung together a set of descriptors of a person, place, or moment that read like a recipe.
Free to a Good Home by Jules Torti is one of those tasty reads. Page after page provides the imagination with flavours and ingredients for possible dishes and delicious sips, but there was one passage that spoke the loudest.
Here's a drink I concocted based on Torti's yummy description of the gal she would fall hard for, the moment she laid eyes on her. Honey, milk chocolate, peppermint, coconut….and Lanvin, Homme? OK, there's no cologne in this cocktail, just a little nod to it by way of a tiny sprinkling of Mediterranean sea salt.
It was a perfect summer day on the water, so here's a perfect summer smoothie with a kick….just like the lady herself.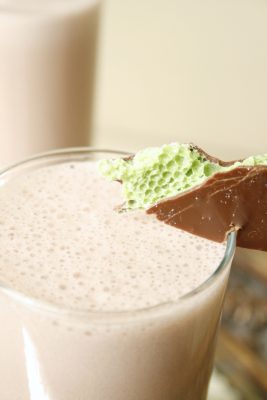 Love at First Sight
2 oz coconut rum
2 oz Amber rum
2 Tbsp runny honey
1 cup dark chocolate milk – soy, almond, or dairy
4 cubes of ice
Tiny pinch of Mediterranean sea salt to garnish (optional)
Chocolate-covered mint candy, notched for the glass
Directions
First, prepare the garnish by heating a sharp, serrated knife in boiling water. Gently saw a notch into the chocolate and immediately slip it onto the rim of the glass.
Add the rums, milk, and ice to a powerful blender and whiz until smooth and frothy.
Pour into two tall glasses and add a tiny pinch of sea salt to the top, if desired.
Makes two decadent drinks, sweet enough to eat for dessert.
**Kim and I would suggest using Mount Gay rum, of course! And, what an easy way to incorporate leftover chocolate Easter bunny ears. Provided you have any left.
Editor's note: Signe wasn't aware that Kim and I had 'experienced' the Mediterranean, so the Mediterranean sea salt addition was ironic. In 2011, we went to El-Montazana beach in Alexandria, Egypt. We were trying to practice social distancing then, before it was a 'thing.' Our beach visit was short-lived as a long, romantic walk along the storied Mediterranean was a bit impossible. See shoreline below.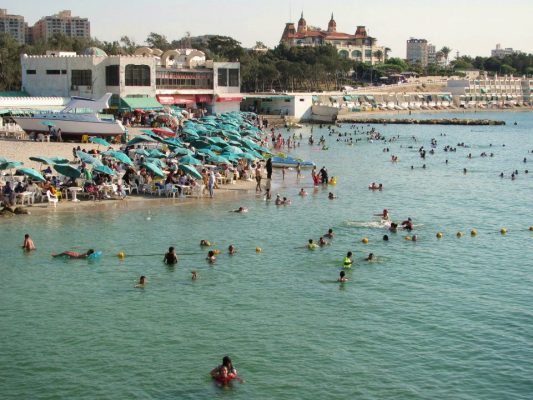 You can follow Signe around the kitchen on Facebook at @signe's kitchen and follow me around the world too, at @julestortiwriter and Alphabet Soup.
---