I awoke in the morning with a record beside my bed; it was called My Father and the Hunter and when I pulled the vinyl out of the sleeve, I couldn't help but smile at the first green album I had ever owned. Then I placed the needle on it and all the memories of the night  before came rushing back – the Strumbellas live at the Roxy.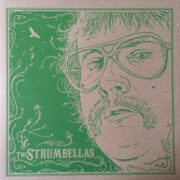 Now, I'm notorious for showing up late to concerts.  I try, but I rarely catch the opening act…and even the first song of the main act.  It's terrible, I know, but I do love the excitement of hanging out with friends before a concert.  I never want it to end.  I wish it ended a little earlier on Saturday, so I could have seen Sam Cash and the Romantic Dogs kill it, as so many people told me as I waltzed in as they were just finishing up. But I took advantage of the short beer lines at least and grabbed myself  pint of Kilannan and scoped out the merch tables.
I meandered my way into the auditorium just as they were getting on stage and I quickly realized they were going to be one the coolest bands to see live.
Advertisement
You know how at most shows you have an opportunity to go to the bathroom or grab a beer when the band plays a song you're not crazy about?  Well, this didn't happen on Saturday night.  There was no point that I wasn't being entertained between the up-beat, indie pop and the intermittent conversation and friendly witticisms.  They fit extremely well into the Canadiana tradition of bands like Elliot Brood, Hollerado and Hey Rosetta.
They moved effortlessly between songs, with funny musings and self-deprecating jokes that let the audience know they were there to have fun too.  The MC for the night was their keyboarder, who I have to assume is named DAVE like it said on his hat, and he was hilarious.  He's the kind of guy you want to stand next to at a party. It's easy to tell how well they all get along and when the lead singer announced that it was the greatest group of people to be in a band with, I believed him.  They genuinely enjoyed making music together and that is a refreshing thing to see.
When Dave started throwing out puns about the giant rocks the band brought on stage for props, the audience took up the campaign and when the female placed her foot on one of them to 'rock out' with her violin, I wanted to chime in with 'She looks like Rock-quelle Welch' but I chickened out.  I hope I'll have enough courage the next time I see them to join in on the banter.
As for my overall impression – I wouldn't miss this Juno winning collaboration of talented musicians.  You'll go as a fan, but you'll leave feeling like one of their friends.
CBC just closed its voting for the CBC Music Awards: CBC Music Awards
The Strumbellas were nominated for the Rising Star award, but in my opinion, they should have also been nominated for Best Live Show Award.
Check out one of my fav tunes, Ride On:
Much thanks to Mudtown Records to bringing The Strumbellas to town!  Keep up with the upcoming shows at http://mudtownrecords.com/
Written by Jesse Wilkinson