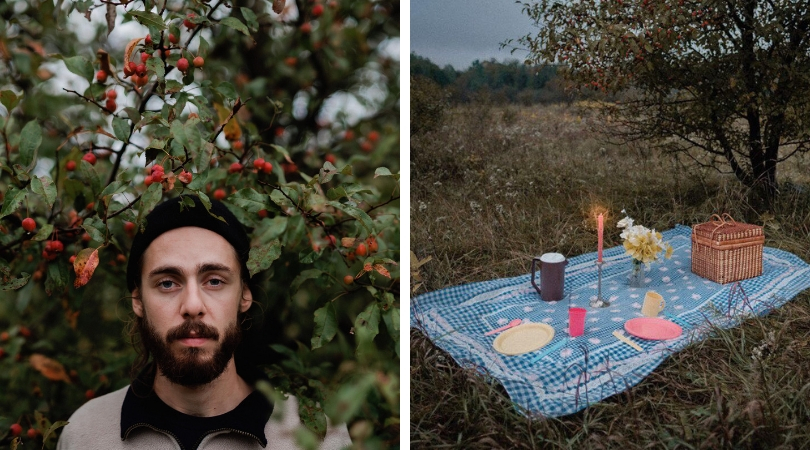 I think out of all the categories of artists, musicians have the most difficulty distancing themselves from their art. We immediately assume the lyrics are about the singer. The song must be about them.
When Marshall Veroni sings about "walking lonely lakeside/after drinking everything in sight" I fall victim to the old trope and imagine he's telling me a personal story.
Maybe he is. I don't know if Veroni's debut album, In Fields, is a collection of personal stories, but they are certainly reflective in nature with rich imagery and powerful metaphor.
Advertisement
It's not up to me to figure out if these are his reflections or not. I'm only interested in their capability – whether they can make me reflect too. And this is something Veroni masters well. The imagery flows naturally, powerfully throughout this eight song effort and it's one to lose yourself in.
This is an album that makes me remember my younger days through the oft reverb-soaked tone. His images aren't mine, but they're archetypal enough to keep me engaged – I've sat by windowsills contemplating life, I've helped friends come down from bad trips, I've taken buses to Montreal, I've laid with lovers by waterfalls.
You won't know if it's his voice, the sonically soothing structure of the tunes, or the lyrics, but you'll be transported by In Fields. It might have something to do with the truth. There's an honesty to these songs – true reflections of life told through beautiful lines. On Falls, the opener, he pens poetically "I will pick up the words as they lay on your pillow/ with a blanket by my side"
Watercolours is the strongest on this collection, and possibly the most cryptic, detailing a love gone wrong: "Remember me as a monster/ and then share that with your father/ so he can bury me in woods by his shack" The verses are tucked between Bahamas-esque riffs and Jeff Tweedy style solos that add texture.
Long Time Coming is the most tender and approachable. Veroni's voice is the strongest instrument here, noticeable when he belts out "There was a broken door in the back and that's how I came around through". But he starts out much more gentle and troubled with: "Smoking late with the bottle I held in stale mate/ late for class in the morning but I show my teeth just the same"
This album's central theme is coming of age told through love, drugs, and sex, and I haven't heard a songwriter come around in a long time who covers this theme better than Veroni. "I met you at a bar downtown/ I was slurring my speech/ you still spoke to me just the same" he declares deep into the album.
Young Ugly and Angry is a collage of images about love at seventeen with a chorus that floats over sparse piano notes and a steady cello. "Do you remember me?" he asks vulnerably after creating an image of two lovers ascending to the attic. It doesn't matter who these two are or what house it is, but the fact that they were "skipping every other step" says everything. It's these details that draw us in. Good songwriters know how to do it, and Veroni is one of them.
Living Situation is more driving than the others on the album, lyrically and sonically with a pace that is positioned well to kick off the B Side. We Met continues this upbeat energy with a beautiful slide guitar backing that offers an alt-country feel. "I don't mind the morning/it's the night time that's bothering me lately/ Making me feel like I have something to prove" is a line that reinforces the coming of age theme well, and one that is ironically answered by this very album.
The haunting I Used to Walk represents the quiet struggle of teenage-hood – the chase, the fall, the loneliness. Sometimes the moments we remember most are the ones when we sat alone trying to sort it all out.
"I was all alone" he croons on Family, the closing piece to In Fields. "I was in a pool of my own selfish blood." If these are in fact true reflections, this is Veroni's regretful refrain: "All those countless mornings/ I was barely getting up/ Smoke on my breath and your words in my chest"
Whoever this final tune is about, it's clear they're not letting themselves off easily. But that's honest. And that's what makes this album so listenable, so endearing, so visceral: a young man being honest about who he is, who he was, and where he's going. These songs may offer a hint of his coming of age, but they're also a clear sign of where he's going.
Written by Jesse Wilkinson
Photos supplied by artist