"This is the best corner in all of Grey Bruce," says Lambros Klouvidakis proudly as he stands in the doorway of his family's coffee shop. We've just spent the last hour chatting about his father's iconic spot at the corner where 6&10 splits into…well both 6 & 10. Highway 6 heads to Guelph through Durham, Mount Forest, and Arthur, while 10 leads to the GTA through Markdale, Flesherton, and Shelburne. "This is Bloor and Yonge," says Lambros indicating the traffic is non-stop.
It's a corner almost everyone heading south from Owen Sound travels through and has likely held as a topic of conversation. Why? Well, you may have noticed that Coffee Time, the old rival of Tim Hortons, set up shop there in the late 90s, but after years of towing the franchise line, the owner made a bold move. He dropped the Time for Team. But how does one trade a Time for Team and get away with it, you might ask? Well owner Emmanouil Klouvidakis was a well-connected man. I'll get to that in a minute.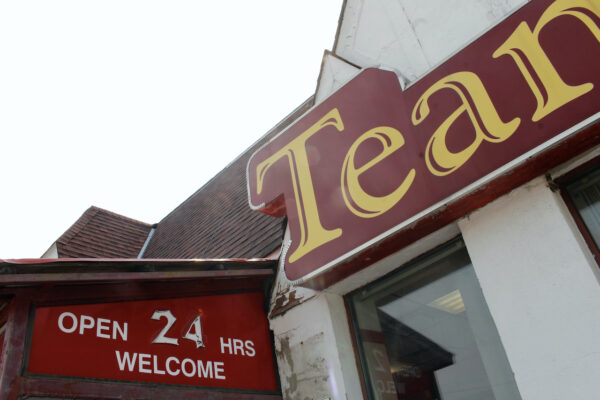 "The whole thing started in '97," Lambrose says as we ease into the worn, red chairs of the empty coffee shop. "It was a time period when there was nothing here."
At that time, his father was coming up to Grey County from Toronto to price signage for Petro Canada, and he couldn't help but notice a certain corner that had opportunity written all over it. He saw potential and thought 'coffee.'
Advertisement
It became a place for locals to meet and chat over a hot cup 'a' joe, which was appreciated by many. "It gave a lot of life to this area," says Lambros. "And it was a booming business."
The OPP station in Chatsworth was only just a small bungalow at that point, but they also used Coffee Time to convene regularly. "It was a meeting spot when they were on the road. If they had something to discuss, we would give them one corner of the store and my dad would say 'don't go over there.'"
Aside from travelers, locals, and police officers, it was also frequented by the military when they were stationed in the area. In one instance, the Royal Canadian Dragoons had come down from Petawawa to Chatsworth for tactical exercises before heading off to Sarajevo. Emmanouil would empty out the donut display each day for the soldiers, who were staying in the nearby arena, says Lambrose. It was a form of gratitude as someone who had lived through WWII.
"A lot of people were very grateful, but also a lot of those people have left now," says Lambros reflectively about their time in Chatsworth. He looks out the window where the SOLD sign sits prominently.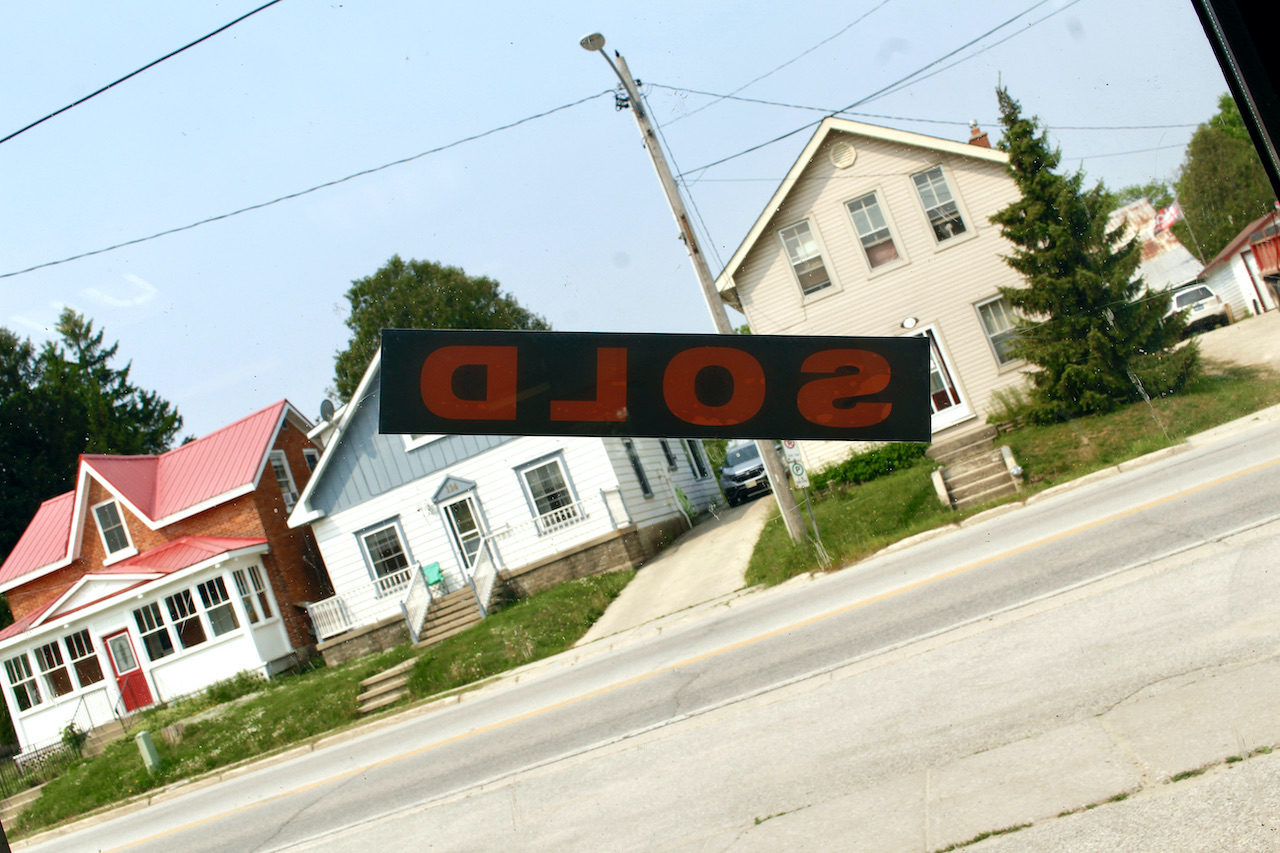 This once busy meeting spot, saw fewer customers meeting as the years went on and more coffee shops started popping up around them. "Now, you don't have to stop here because there's stops every 40 km where there wasn't for a long time," he says.
Lambrose mentions the rise in Tim Hortons locations around them that have impacted traffic, citing Dundalk, Durham, Wiarton, Hepworth, and Owen Sound. "Every time one of those units opened up, it took a percentage of sales away because…now the market is saturated."
It wasn't long before they made the move to drop the Time for Team, and it was the connections Emmanioul had that allowed it to happen seamlessly.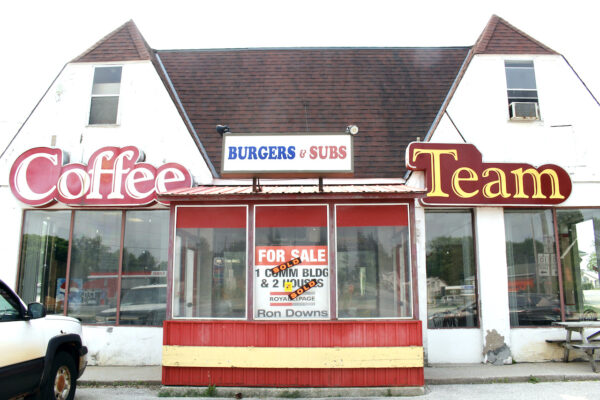 "My dad was best friends with the owner of the company," Lambros says. "He said it was okay – put your own name on it." So Emmanioul did. And it's been a topic of conversation for passersby ever since.
Lambros continues "See back then, Coffee Time was just starting out and there weren't many franchises out there, so the owner was happy to have his brand represented up in this area."
They turned into a Coffee Team overnight, and it eased some of the financial pressure that had occurred from the all the double-doubles being sold around them. Coffee Team continued serving the 'Bloor and Yonge of Grey County' until this spring when it was sold to a new buyer, who is planning to capitalize on the traffic of 6 & 10 with a new vision.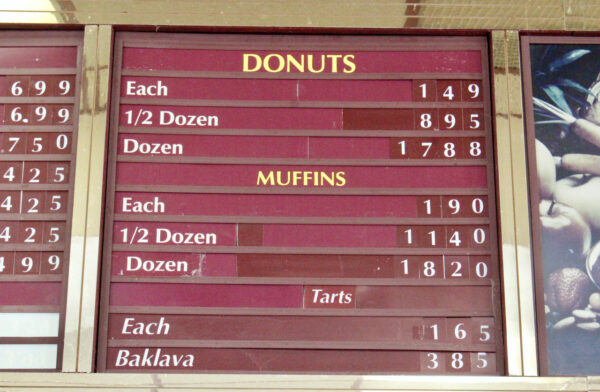 The Klouvidakis Team has been serving coffee, donuts, sandwiches and soup for the last 25 years, and what is coming next is in the same industry, but specifics are known only by a few. I'm now one of them. But out of respect to the new owners, I'll keep my mouth shut. I've always been good at keeping secrets.
"What they're putting here, it doesn't exist in Owen Sound," Lambros says. "First it was coffee, now it will be this.
He pauses and reflects "It's good for the area. People will be happy with what's coming here."
"What my father and I had here, it exhausted its thing. Just like anything."
While the fun name is what many people have associated with this family run business in the heart of Chatsworth, it's the generosity of the owners that many in the area will remember most. "There was a mutual respect," he says.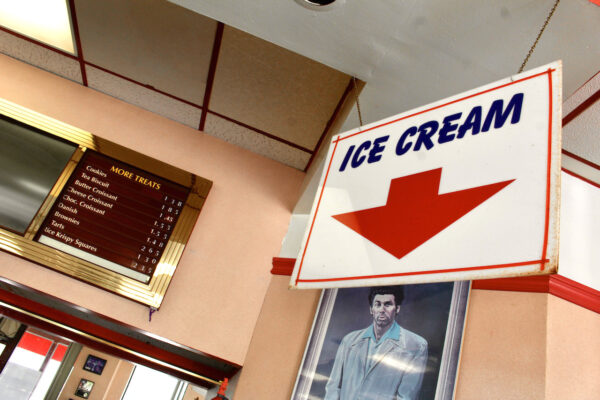 Before I leave, he takes me on a tour of the shop – first stop is the ice-cream counter, and then the register where customers ordered their submarines, donuts, and soup from a traditional menu lacking the modern, annoying spectacle of bright screens and fancy special effects. Our tour moves along to the OPP Commissioner plaques, photos of the military squad, and pictures of local hockey players. There's twenty-five years of history here.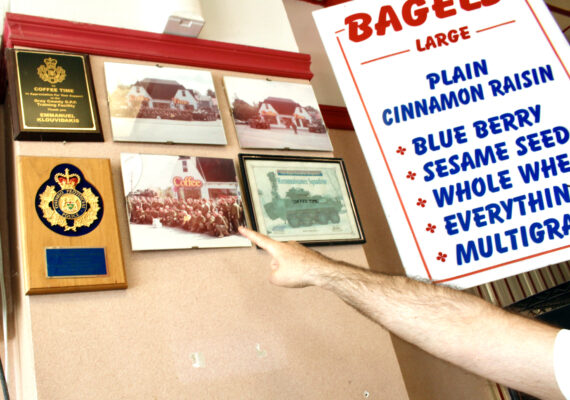 He tells me his father Immanouil now 88 years old, is living in Owen Sound with Lambros as his primary caregiver. As for Lambros, he may go back to the aviation industry, he says. It's unclear what the next steps are for the Klouvidakis family, but it's possible they're eyeing up another corner in the area to start anew.
It won't be the best corner in Grey Bruce – that's already taken, according to Lambros. And as I try to turn out onto Highway 10, I see what he means. I might as well be trying to turn left onto Bloor from Yonge. It's a steady stream of traffic, but it's also Saturday morning.
Stay tuned for a new venture coming to the Bloor and Yonge of Grey Bruce this year.
Words and photos by Jesse Wilkinson