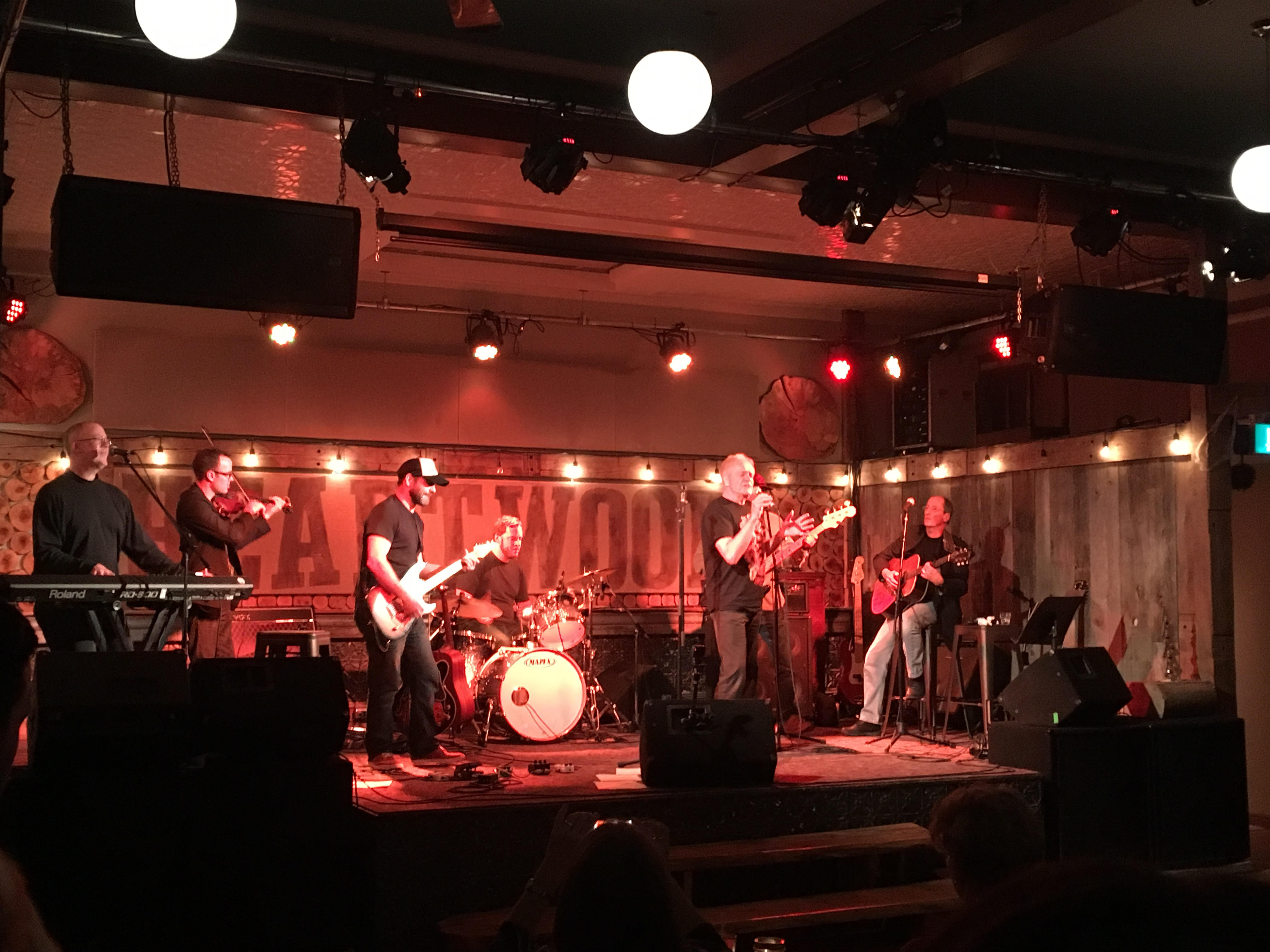 Is there a better musical duo than a father and son? I would argue there isn't. And if you disagree, I'd ask you to attend a live performance of Sweet M, a band led by Brian Barrie and his son Morgan. If you were in attendance for one of their shows this past weekend at the Heartwood Hall, you'll know exactly what I mean. Damn, did they have a lot of fun on stage!
They sold out back-to-back nights while unveiling their new album, 'Til the Motor Quits with a full band behind them, a group of extremely talented local musicians comprised of Tyler Beckett, Andrew Carr, Jaret Koop, Brian Tannahill, and Bob Severs.
The effort was produced and arranged by Morgan Barrie, who also played all the instruments on the album, recorded at 9th Street Studios in Owen Sound, and all lyrics written by father Brian. The album release party brought these songs to a live venue where the lyricist got to show just how much of rock star he really is. He commands the stage and led the crowd into each song with seamlessly entertaining dialogue.
To start off the evening, father and son walked out on stage and Brian stepped to the mic and said it was a 'perfect Canadian night' to play some rock and roll; it was cold outside and the snow pillowed against the windows but everyone inside the hall was ready to party 'til the motor quit. And I thought it was perfect that father and son came out alone to start the set with Purple Mark, an intimate, Zeppelin inspired tune that kicks off the album. They've been writing and playing together for twenty-five years – needless to say they were comfortable up there.
For Pushing Shoving ('Til the Motor Quits), the band joined them on stage and the party began. Brian introduced this one by telling people that sitting on the Gardiner in a traffic jam is kind of like getting free parking in Toronto. The song is a testament to a way of life that ain't spent in a daily commute or a 'freeway sheet' as Barrie describes it. This song is rock and roll at its best – sweet guitar grooves and a heavy beat. The great part about the live show was the addition of the fiddle, which injected a cool riff into the arrangement. Beckett's instrument was a noticeable addition to the sound.
Advertisement
Struttin' Black Striders, a bluesy 70's era burner with a cadence that could be at home on Rodriguez' Cold Fact, was one of my favourites. It follows a frontman through a symbolic preparation for stardom. Barrie sings "Now I am ready/ For lights and the stage/ Just plug me in/ To any old age". He was plugged in alright, the whole band was.
If you're looking for guitar heavy songs with a steady bass groove, you'll want to check out Thought I Was Living in Freedom. This is where Morgan's soloing ability really shines and he wasn't shy to light his guitar on fire last night. In fact, each band member was given a chance to showcase their stuff as Brian introduced each of them in a fun, improvisational jam that used rhyme, alliteration and wordplay. You couldn't ignore Brian's level of comfort and command here. He's a true showman.
He enjoyed setting up the songs for us, so we knew what his imagery-rich lyrics were alluding to, like on 'Could You Learn to Love Me', a song he says could have been named 'Sugar Daddy Strikes Out' for its allusion to old men trying to pick up young women in Aruba where he and Morgan spent holidays windsurfing. Table dancing was definitely allowed for this one, he said. No one took him up on it, but many opted to dance on the floor instead.

When the encore came, everyone was still standing, which was perfect for their song, The Getaway, an upbeat crowd favourite that inspires to live young and carefree: "…you hear the band/Fling the notes your way/And you catch the beat/Of the getaway." Last night was definitely a getaway from the January cold. Inside the Heartwood, the band sang it's final lines "…the dresses swing/ At the getaway" which is a great image, but not one I had to conjure up: the crowd was already swinging away on this 'perfect Canadian night.'
'Til the Motor Quits is available for purchase on iTunes
Written by Jesse Wilkinson