Winter 1994. Momentous wintry happenings were afoot. Jeff Gilooly, former spouse of Tanya Harding, confessed to his part in the attack of Nancy Kerrigan. The 17th winter Olympic games opened to great Norse fanfare in Lillehammer Norway. In Ontario, the price of gasoline surged to over 50 cents per litre. Citizens were outraged as this pushed the cost to fill up a snowmobile to an unspeakable $18. An historic cold wave hammered the province. Georgian Bay froze. Lake Huron froze. 94% of the entire surface of the Great Lakes froze. Temperatures in Owen Sound dipped to -30 C, just 6.7 degrees shy of the town's all time record low set in 1895.
It was in conditions such as these that a brave party ventured onto the ice at the end of the east side harbour wall. A 7 year old boy and his older brother, arms weighted down with gear, hearts soaring with expectation. Both were dressed for the elements in toques, Northern Getaway sweaters, and Sorels. Their father, very bearded and slightly tipsy, trudged ahead with a fine felling axe slung across his shoulders. Their mission? To hack a hole through the ice and fish up dinner. What they lacked in appropriate equipment, know-how, and experience they made up for in brash enthusiasm.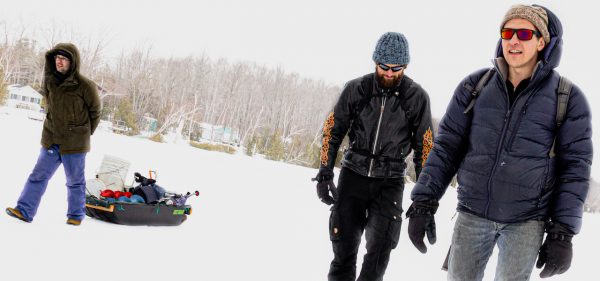 The boys shovelled clear a patch of ice and stepped aside. The father, with steel in his eyes, and Labatt's in his veins, unslung his axe and struck the ice a fearsome blow. A spray of ice chips flew everywhere. The boys stepped aside even more. Again and again the axe bit hard into the ice, until the hole was at least two inches deep and as many across. Alas, even the finest tools can endure only so much misuse. On about the 5th swing the frozen hickory handle snapped clean in two. Doubtless the fish below heaved a tremendous sigh of relief. After a brief skate, the boys picked up their broken dreams, the man his broken axe, and they all plodded home.
That was the last time I ice fished. Or it was until last winter anyway, when my father gave me that rusted and still broken axe. Now a bearded and slightly tipsy father myself, this relic of my youth stirred something in me. It awoke a primal urge that I suspect lurks deep in the heart of every Canadian. The urge to cross a bleak frozen expanse by foot, to grit teeth in the face of biting winds and stinging snow. To revel in the wintry majesty of this great land, as core temperatures plummet and blood alcohol levels soar. Ice fishing may just be the perfect distillation of this specific form of Canadiana, with the added (if remote) benefit of potentially catching a fish.
Advertisement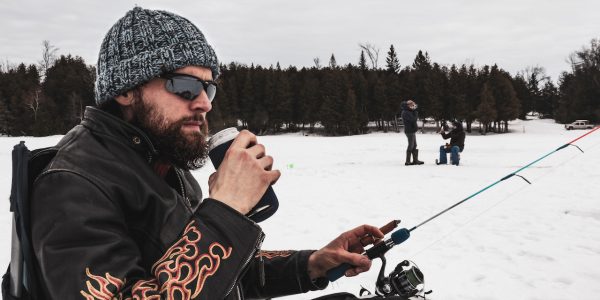 And so, after a 25 year hiatus I took to the ice again. To increase my odds of actually catching a fish, and to save myself from axe-wielding embarrassment, I joined forces with Matt and Joel. These two bad hombres, unlike me, have caught many a fish. They also both possess ice augers and large white buckets. Necessary equipment, the buckets especially. They do it all. They make stylish seats, hold bait, transport gear, and can even fish for you if you set a pole upon them.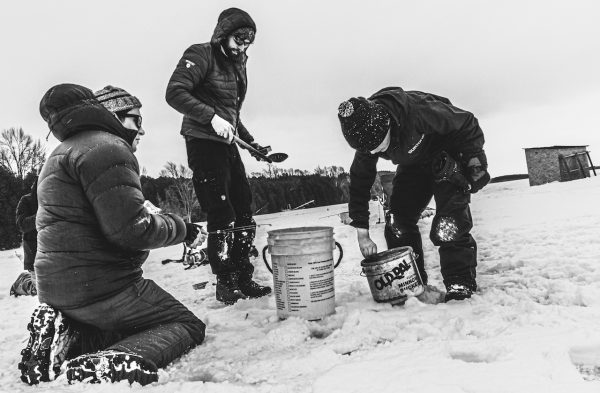 Other essential ice fishing gear includes: flask(s) of bourbon, pocketsful of corn nuts, cheap cigars, a thermos of delicious homemade soup (thank you Matt), a jug of dangerously potent homemade rum (thank you Joel), a sweet leather jacket, and a sled to haul it all. You may also wish to bring along a rod, reel, hooks, live bait, and tip ups, but these are not considered essential.
Now, I am not the sort to begrudge the seasoned ice-fisher his gas powered auger, or her ice fishing sonar, or even their propane heated pop up tents, but I must stress that this is the incorrect approach to take at first. The previously mentioned essential gear will be enough to get you through your first few outings. If you're the ambitious sort consider borrowing some of the non-essential gear from a bud. Spend a few afternoons on the hard water, freeze your toes and nose once or twice. Return home with no fish, stinking of bourbon and cigars, to a mildly disapproving spouse. If you get through all this and still feel drawn to the ice then plonk down some bucks at your local tackle shop.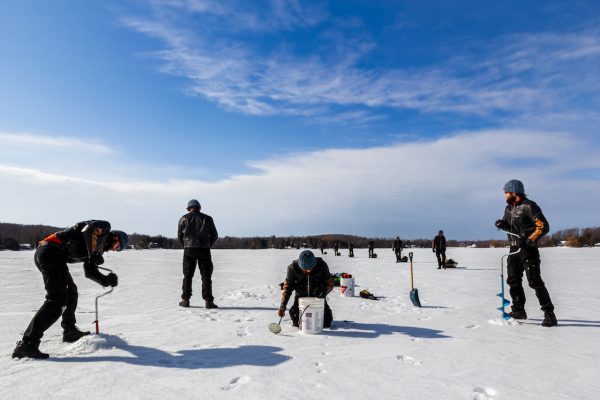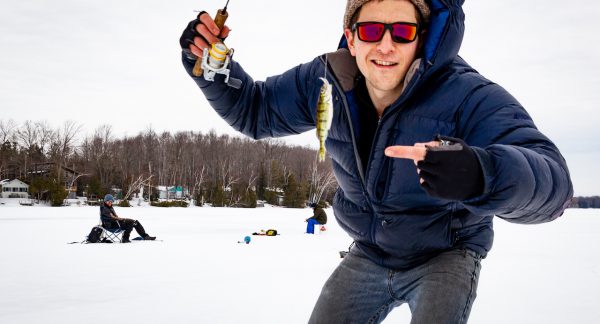 Over three outings last winter we caught three fish. I should say Joel caught three fish. Specifically two tiny perch and one wee pike. Ask him about the one that got away. It broke the line and almost took the pole, it DEFINITELY existed. Three days, three underwhelming fish. These results may have disappointed my companions, I however, got exactly what I was looking for. We took in the frozen beauty of Chesley, Gould, and Arran lakes. Cigars were smoked, corn nuts eaten, rum was swigged. Responsibilities were ignored. We stood outside in the winter, with essentially no purpose beyond standing outside in the winter – there is a purity to that.
Shaun Majumder said of ice fishing "It combines the fun of being cold with the thrill of waiting." He is not wrong, and I cannot wait to once again be cold and to wait.
---
Words and photos by Zak Erb