Picture this.
It's peak summer in South Georgian Bay. You're out for a stroll along one of the region's beautiful beaches, basking in the slightly too-warm-for-comfort sun as you watch the waves roll in.
But something is off, and it's not just the unnecessary amount of sweat dripping from your brow for a summer day in southern Ontario. As beautiful as the moment is, you can't help but notice the soggy grocery bag stuck amongst the seaweed or the plastic spoon you almost stepped on.
And then you pop into the grocery store on your way home, where someone's lamenting the rain in January as they unload a case of plastic water bottles at the cash register.
Advertisement
"People just don't get the tragic connection between what's happening in the world and the way they consume," says Jacquie Rushlow, co-founder of The Keep Refillery. "It's overwhelming."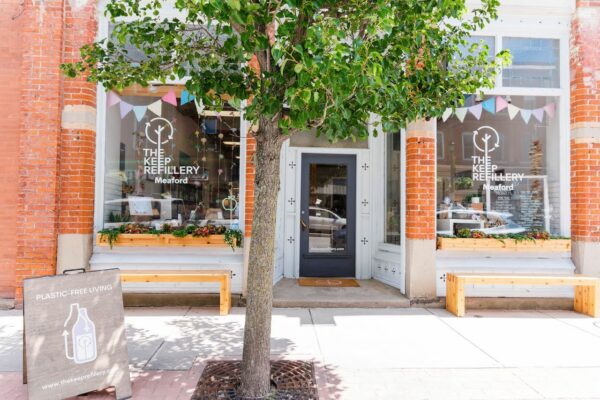 According to Rushlow, what many people don't realize is how closely these two are tied.
Plastics are created from fossil fuels, and the production of turning oil into plastic is what produces the alarming levels of greenhouse gases (GHGs) that absorb heat into the earth's atmosphere and make the planet warmer.
It's quite simple, and I'm sure by now we all understand what global warming is in some way, shape or form. But the production of plastic is just the tip of the rapidly melting iceberg, Rushlow says. Equally as concerning is the fact that not only does this plastic — which was already so harmful to produce — now take over 400 years to break down, but it breaks down into micro-plastics that never fully decompose and instead, end up literally everywhere: in groundwater, lakes, oceans, animals and, you named it, people too.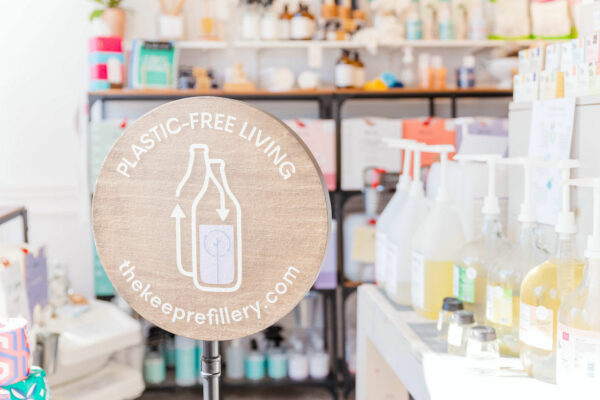 A 2017 study found about 10,000 metric tons of plastic trash found its way into the Great Lakes; Lake Huron alone gets about 600 tonnes.
While there are a lot of plastics that have immense benefits, it's the single use plastics that we are talking about here. These are the items that can be eliminated by changing the way we consume. It is something we can tackle right now. In fact, we must.
The harmful impact of plastic waste on the environment has become impossible to ignore. In 2022, intensive heat waves around the world shattered temperature records. Droughts are becoming longer and more extreme while tropical storms become more severe due to warmer ocean water temperatures. But even as consumers become more aware of the consequences of single-use plastics, Rushlow said the bottom line is people need to change the way they consume and, more importantly, the way they think.
Which is exactly what kick-started her journey a number of years ago.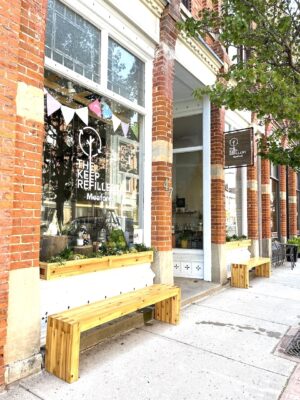 Prior to opening The Keep, Rushlow and her husband, Andrew, worked in TV — Jacquie as a producer and Andrew, a director. About a decade or so ago they worked on a documentary in Kenya and their lives were forever changed. Waste was everywhere, and after coming across a Hamilton Tigers t-shirt in the slums of Nairobi, Rushlow realized the waste was mostly ours.
"You're not seeing candy wrappers in Swahili," she said. "It really connected us to understand that when you throw something out, it doesn't disappear." The experience prompted them to become plastic-free in their own home, but when they moved north to Creemore a few years later, they found it difficult to do so without ordering everything online.
"For all these steps forward we were making, I felt like we were taking a bunch back because of our carbon footprint," says Rushlow. It ate away at her until one morning — Jan. 20, 2020 to be exact — she had an idea. "I woke up that day and I just had a burning fire right in the bottom of my gut," she said. "We need to make some sort of change here. At home. In our community."
So they decided to open a refillery.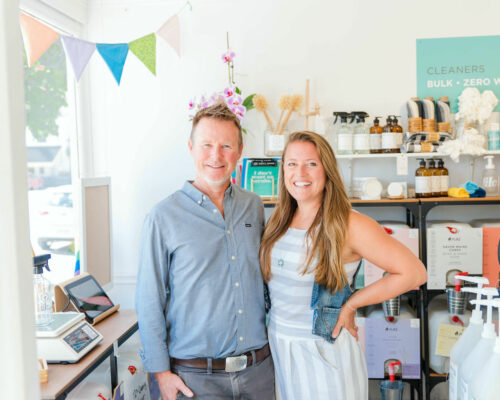 With very little experience in retail or as entrepreneurs, opened The Keep on Mar. 1 that same year in a small shed, which at the time had no heat or running water. Very few in the community knew what a refillery even was, but people were excited, Rushlow says.
Then not ten days later, the world turned upside down. They were forced to adapt, so they did — and people took notice. The Rrampt crew certainly did when the Meaford location opened, as we had a new place to buy our wooden dish scrubbers and bamboo toothbrushes.
The Keep Refillery now has four locations across Ontario in Creemore, Meaford, Kingston, and most recently on Dupont St in downtown Toronto. Their products are as ethical, sustainable and truly as low waste as possible and their mission is to "close the loop," so at all of their locations, they only stock suppliers who are responsible for their waste as well. As of December 2022, the Keep has kept approximately 125,000 pieces of plastic out of the landfill.
"We are setting out to rid the world of single-use plastics one community at a time," Rushlow says. And she says every community she has set up shop in has responded so far.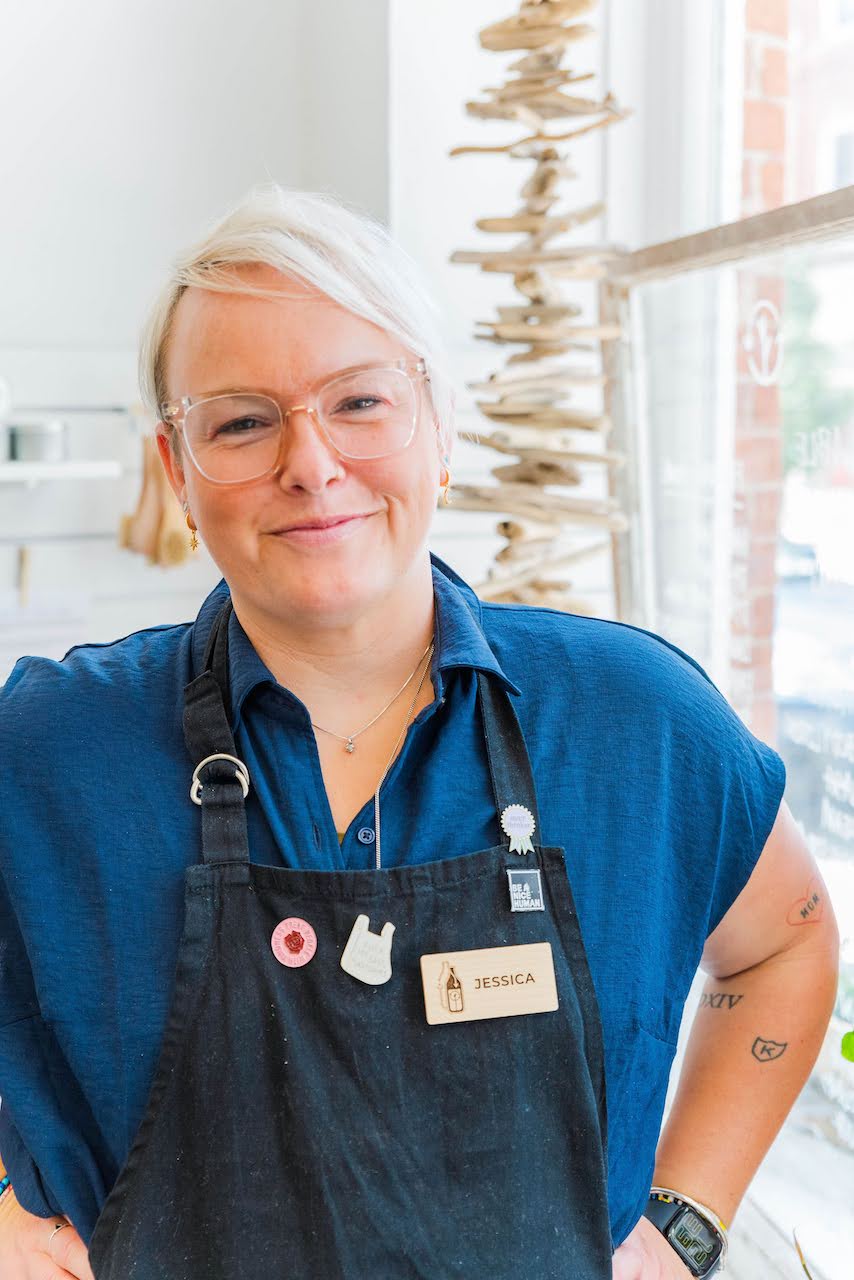 The demand is there, she says. The hardest part is simply starting.
"Changing habits isn't easy but refilling actually is," says Rushlow. "Once you start, you won't stop."
But it all starts with education, she says. And the belief that you have the ability to make a difference. To do so, Rushlow encourages everyone to ask questions and think twice about the decisions they make daily. It can be as simple as buying single apples instead of a bag of them. Don't support the bag, she says.
"You have a voice with every single item you purchase. Period," she says. "If everybody just did one little thing, imagine the ripple that turns into a wave, and watch the change that we can make."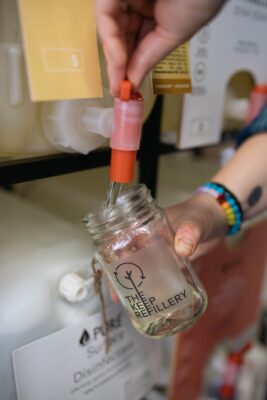 And it's working. Since Dec. 20, 2022, the manufacture and import for sale in Canada of checkout bags, cutlery, foodservice ware, stir sticks and straws are prohibited. The ban will eliminate more than 1.3 million tons of plastic waste over the next decade.
That means fewer plastic bags washing up on our shores, fewer water bottles floating by our boats, and fewer plastic spoons digging into our backs as we lay on the beach reading our Rrampt magazine, which we ask that you keep forever. Or at least put in the recycling bin after you've read it cover to cover.
Words by Maddie Johnson