If you've been to Sauble Beach in the past few years, chances are, you've seen or heard of Casero's famed Taco Bus. Originally built in 1949, and purchased on Kijiji nine years ago, the bus is a double-decker beauty that's been the headquarters for serving up delicious tacos, margaritas and other Mexican fare for the past eight summers.
"We towed our Taco Bus to Sauble in 2013 with a dream and it hasn't moved since," says Beth Milne, one of owners of Casero. "The original engine is still in it, but she doesn't run anymore. Actually, we get many requests to bring the Taco Bus to cater events such as weddings and festivals and although we appreciate the enthusiasm, that bus ain't going nowhere."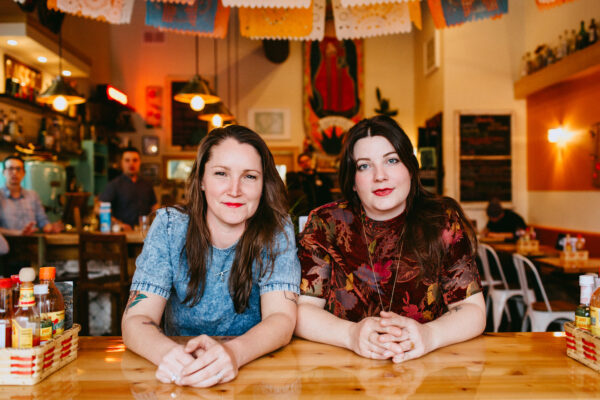 And that's just how local taco fans like it. In fact, the bus will be gearing up for its ninth season, summer 2021. For those who don't frequent the beach, Casero Kitchen Table's location in downtown Owen Sound has been open since 2015 with sit-down service, take-out and a fully-licensed patio.
"Over the years," explains Milne, "we've been able to streamline our process on the bus, so most of the food creation is done at Casero Kitchen Table in Owen Sound. At Sauble Beach, we prepare our fresh produce recipes and assemble our dishes. The food prep for summer at the restaurant is basically non-stop. Space-wise, it is now way easier than when we started out trying to do it all on the Taco Bus. In the beginning, we were running out of food every day. Over the last eight years we've made several alterations and adjustments to the bus and we're in a pretty good spot now with the addition of air conditioning and extended refrigeration." She continues, "I mean, it's hot and it's small, but it's fun and great for team building!"
Advertisement
The bus has a slightly smaller food and drink menu compared to the restaurant, but both offer the popular Double Decker Taco. The two locations also offer booze options including the michelada – a thirst-quenching combination of Mexican beer, lime juice, spices and topped with clamato – Milne tells me they super popular at the beach on hot summer days.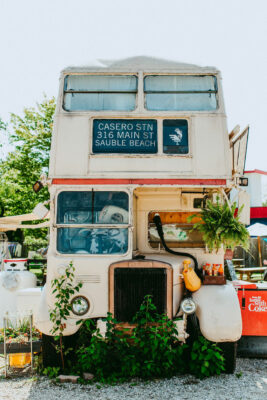 Back at Casero Kitchen Table, big things are always on the back burner. The name, 'Casero' is Spanish for homemade, and perfectly embodies the flavour creations coming out of the kitchen. The restaurant updates its menu regularly to make the most of local, seasonal ingredients, working with partners such as Howell's Fish in Wiarton, Moore's Meats in Chatsworth, Persephone Market Garden and Sideroad Farms in Walter's Falls. In fact, Casero has been recognized by Feast On (a certification program that recognizes businesses commited to sourcing Ontario food and drink) since 2016.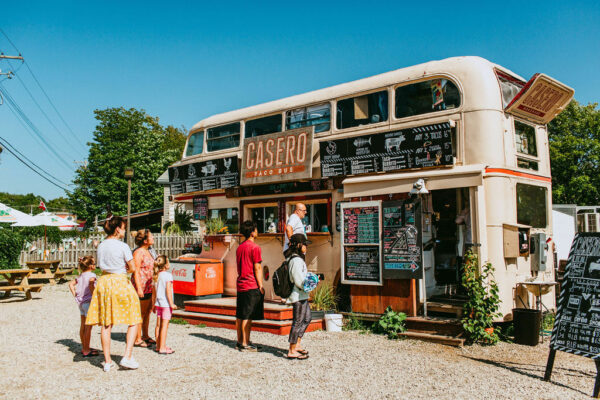 Despite the creative changes to the menu, the owners are careful to keep tried-and-true dishes as mainstays, such as their famous tacos. "Customers have driven two hours for our fish tacos," says co-manager Sarah Foley, who oversees the restaurant's day-to-day operations. "Though the most popular item by far is our brisket burrito. Filling, tasty as heck, crushable due to its shape and stature. A perfect lunch."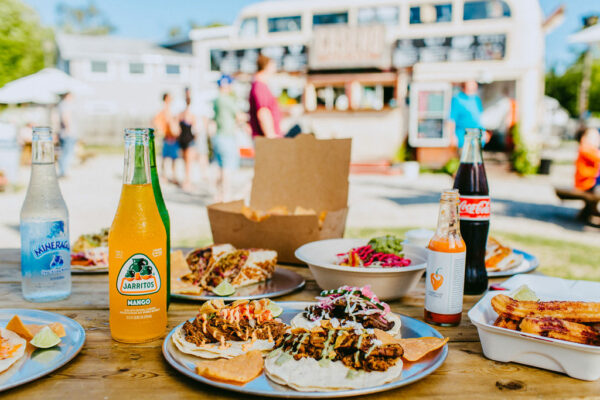 For Foley, what stands out about working at Casero has been the friends and community she's gained through her job. "Everyone in the restaurant, from the chefs in the kitchen, to the hosts out front, to the owners, all get along so incredibly harmoniously. I've never seen anything like that in a restaurant," she explains. "Being part of the Casero team also means being part of a community of local businesses downtown. We all support each other, wave hello on the streets, and cheer each other on to succeed. After all that, the most rewarding part of working at Casero is eating Chef Emily's food. Every shift! I'm gosh darn overflowing with gratitude for that."
Another highlight for Foley is the fact that the restaurant is always growing. "We have so many like-minded individuals working together wanting to succeed and keep the Casero fans coming back for more good vibes, food, and beverages. Our Brisket Program has really taken off in the last year and you better believe that isn't going anywhere. We've been so pumped at the growth of this facet of the company." Customers can now purchase Casero briskets and more at places such as Foodland and the Eat Local Grey Bruce food co-op.
Casero plans to expand it's grocery program even further in the future. While the program has grown to include frozen enchiladas and hot cheese dip, more is to come. "Stay tuned!" Foley tells me. "Whatever it is we do next you can be sure it will be with community growth at the forefront."
It seems like this community-minded approach has been the key to the restaurant's success, especially duing the challenges of COVID-19. Despite all of the changes that have come along with the pandemic, Foley points out that the one thing that has stayed the same at Casero is positivity. "We pivot, we research, we pivot more, and we keep our customers safe and happy. I'd be lying if I said I didn't miss the hustle and bustle of a packed restaurant, but I've certainly learned a lot about a take-out driven restaurant, and the fun technology and platforms you can get to make it all fly!"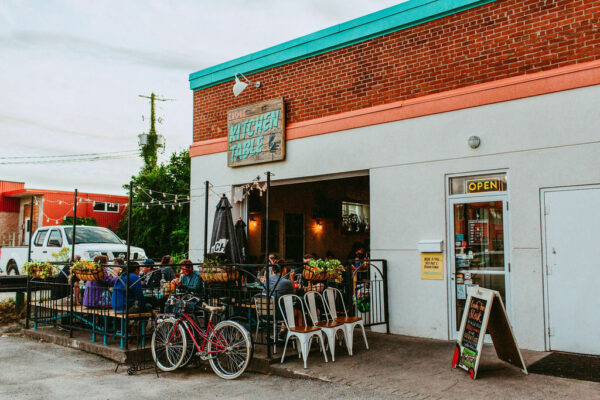 "And, customers are so grateful for our online ordering options now," she continues, "and having our products available in other outlets have given people the opportunity to try our food that may not have known about us otherwise."
Aside from the spectacular food offerings, another area where Casero really shines is through its beverage program. Both Milne and Foley are quick to credit fellow manager Todd Milne, who has worked hard to bring a curated craft beer selection to the bar, including hard-to-find items that aren't available at the LCBO. Favourites include craft beer options from Blood Brothers Brewing and Burdock Brewing in Toronto, which can be enjoyed in house or ordered for take-out (including Door Dash).
Chef Emily Leonard has also introduced a burgeoning wine program with biodynamic and natural wine offerings that should not be missed at the Owen Sound location. Plus, the managers excitedly tell me, the AGCO (Alcohol and Gaming Commission of Ontario) has passed a bill allowing Casero to operate as a bottle shop at both locations indefinitely.
So, whether at the beach, sitting patio side, or headed to the cottage this summer, you can get your Casero fix however you please – cheers to that!
Words: Emma Sweeney
Photos: Spring Morris
Feature Illustration: Matilda Salt