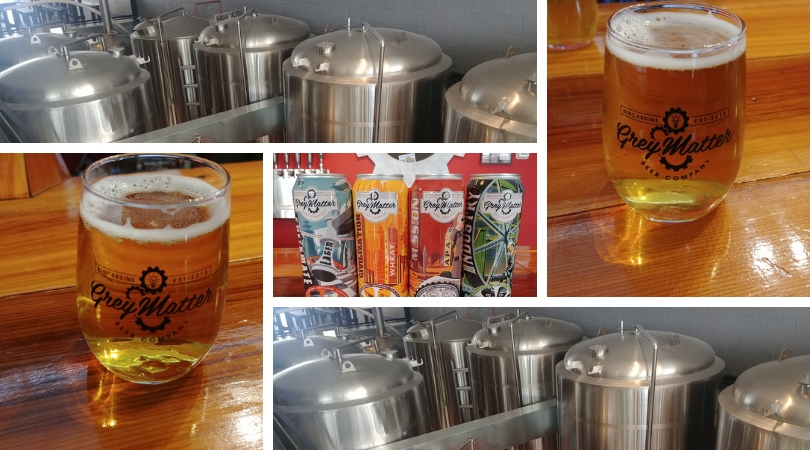 In the heart of Kincardine, nestled amongst pubs and bistros, sits Grey Matter Beer Company. Since April 2018, they've been making and sharing beer with locals and tourists alike. I arrived on a Sunday, to find a unique brewery doing inventive things with beer and art.
The labels and artwork are inspired by vintage travel posters, reflective of the journeys and unknown territory Grey Matter frequently wades into. I waded into this territory, as well, and have offered my notes on their four signature beers.
In addition to the core beers I tasted, they also have an impressive array of seasonal and one-offs. You can stop by the brewery every Thursday afternoon for Grey Matter Labs. And you should…. because beer is good, but limited-quantity, experimental craft beer is better.
Advertisement
Checkmate
Lager — 4.8% ABV

Appearance
Pale gold with minimal head

Nose
It's got a sharp, yet faint smell, with the grains taking a front seat

Taste
The Checkmate is super clean tasting, incredibly refreshing, with a mild malty taste

Body
Crisp and light. It almost floats down.

Where to Enjoy
Ideal to drink in early May. Maybe while gardening or doing other yard work, or at the destination of a bicycle trip (bring some water, too! Beer dehydrates.)

Dawn of Civilization
Wheat Beer — 5% ABV

Appearance
Hazy yellow with medium head

Nose
Sweet, almost fruity. Much more citrusy than one would expect from a wheat beer.

Taste
Dawn of civilization is a full tasting beer, with the lemon and orange zest adding some interesting notes, but it's also fairly hoppy. Not enough to reach IPA levels of hoppiness, but enough to give it a unique edge.

Body
It's got a lot of body, but it's still on the lighter side

Where to Enjoy
It's perfect for a rainy day in late March


Mission to Mars
American Pale Ale — 5% ABV

Appearance
Deep golden amber

Nose
It's pleasantly citrusy and hoppy

Taste
As a Pale Ale, Mission to Mars is hoppy. but it's well balanced. The hops mingle nicely with the malts, to create an easy drinking ale with an ever-so-slightly bitter aftertaste.

Body
Smooth, refreshing

Where to Enjoy
On a dried out front lawn, on one of those 30 degree days that happens around mid-September


Age of Industry
Oatmeal stout — 5.5% ABV

Appearance
Pitch black with a caramel coloured head

Nose
A deep chocolatey, woody smell with the suggestion of coffee.

Taste
This stout has a flavour which can be interpreted as either coffee or chocolate. It's also got a bit of a woody flavour which comes from roasted barley.

Body
Heavy, full bodied, and totally smooth.

Where to Enjoy
Best enjoyed on a fall afternoon while the sun is still high in the sky
---
Final Thoughts
Grey Matter beers are exciting, and not just the seasonals and the Lab beers. Their 4 core beers are classics, but done just a little differently from how you'd expect.
It's the perfect place to prove yourself wrong about your beer biases.
"Oh, I don't like wheat beers"
"I don't like pale ales"
That's because you haven't seen the twist Grey Matter puts on them.

Grey Matter beers are available at the brewery and at many Kincardine bars and restaurants.


---
---
Words and photos by Andy Elliott
.