Eager to skip the overpriced roses and predictable chocolate swag this year? Why not plot a local getaway for your Valentine? We've all slept in a standard hotel room with a lacklustre parking lot view, starchy sheets and K-cups. Here are a few unconventional stays that will ignite relationships old and new with something totally unexpected. This winter, treat your adored one to a divine sleep in a riverside shipping container or totally square B&B. Or, once the temperature climbs again, woo him/her/they with a gift certificate to a Lotus Belle tent in the woods or off-grid cabin.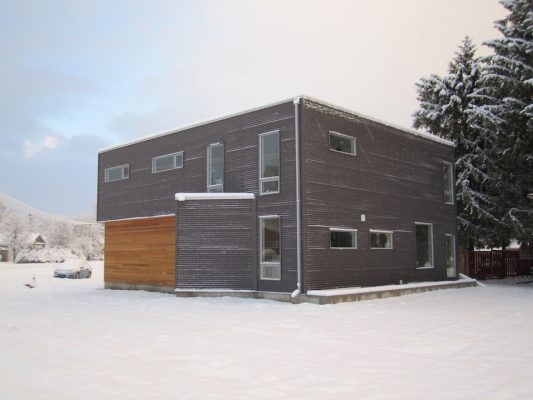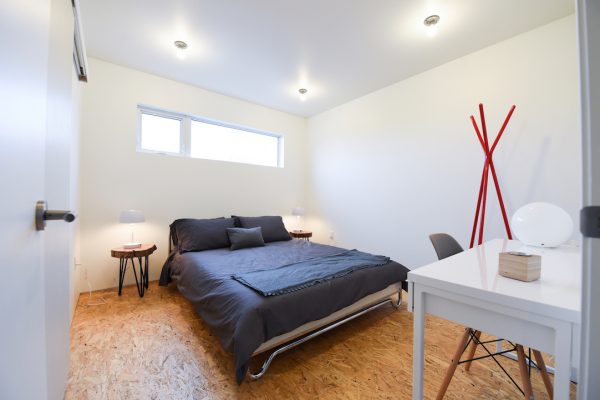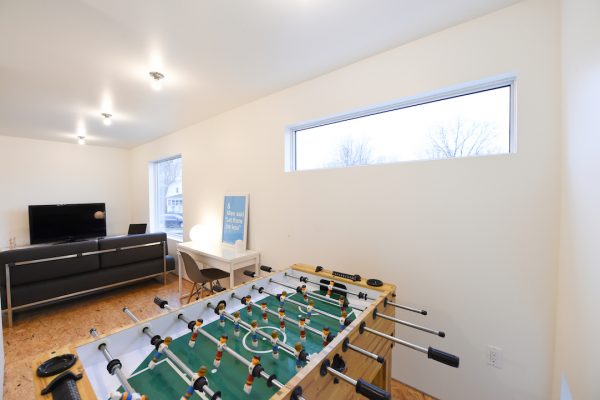 Need to square up with a loved one? This la-di-da B&B in Stratford's Downie District is a 10-minute walk to the core. Built in 2015, the neoteric 810-square-foot space is oozing amenities to trigger all your senses. There's O-Joe coffee, doTerra essential oil products, foosball and an AppleTV if you can't quite part from a series binge for one night.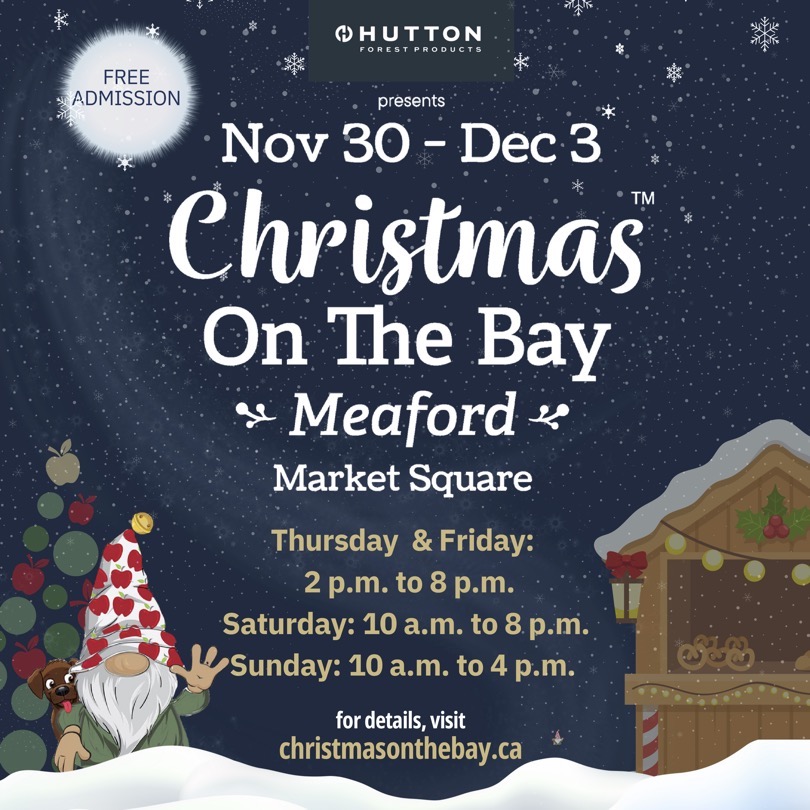 You might want to check Square B&B out for a night just for the intelligent design ideas to integrate into your own home. We're talking high-gloss plywood floors, corrugated steel walls and a birch bark mural that leaves you feeling like you're sitting on a couch in the woods. The second level guest suite has two bedrooms, if you want to double date.
The B+B was recently sold to a new owner, but Jerry, Lisa and Bill the dog's legacy will continue. Bookings for post February 14th can be made here.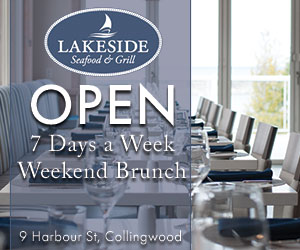 Pairing suggestion: Check out the local live music at The Hub or east coast-flavoured nights at Molly Bloom's Irish Pub. Locals will insist you stop into Rheo Thompson Candies for some Kenyan Coffee Bean Bark.
Rates start at $104. Open year-round.

---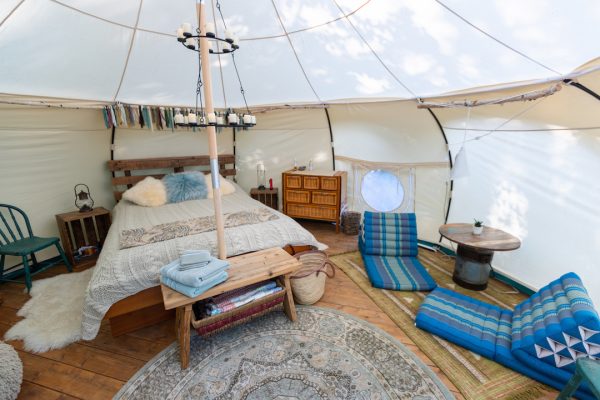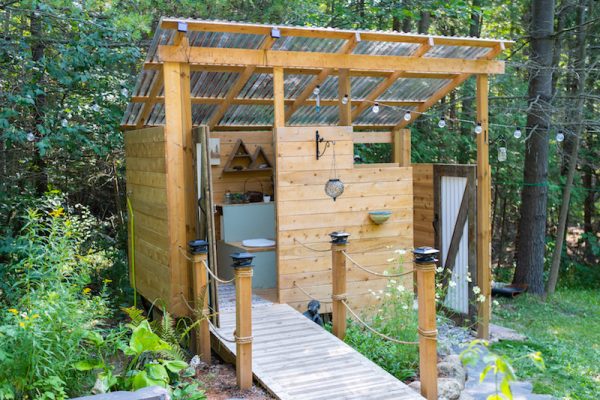 Glamping is gaining traction for good reason: you can have all the frills and thrills of camping in the comfort of a genuine bed. This 16' Lotus Belle tent is as close as you'll get to a pinch-me fairy tale. It's the kind of place that makes red velvet cupcakes for breakfast necessary. Here, you will promise to eat more kale and commit to daily downward dogs—and the triangle mat chairs provided convet into yoga mats for encouragement. There's an outdoor hot water shower, outdoor kitchen, wood stove, BBQ and campfire pit for roasting veggie dogs. The Tom Thomson trail is just a short jaunt away but it will be hard to leave this surreal solar-powered space and, spoiler alert: you might be ruined for traditional camping for good.
Airbnb superhosts Naomi and Emiliano believe they are "guardians of this little piece of paradise." Naomi is a jeweller and earth alchemist while Emiliano's landscaping background is evident in the Belle Lotus surrounds.
Pairing suggestion: Definitely cupcakes and Sky Map, an app that turns your Android device into a "hand-held planetarium." Cloudy night? No problem. Just add a bottle of sweet grass massage oil from the Elora Soap Company.
Rates start at $185/night, open May long weekend until Thanksgiving.

---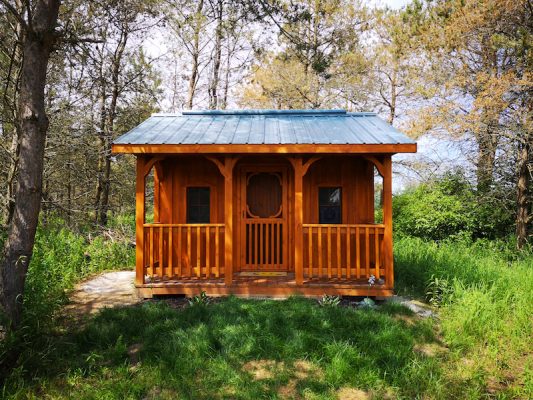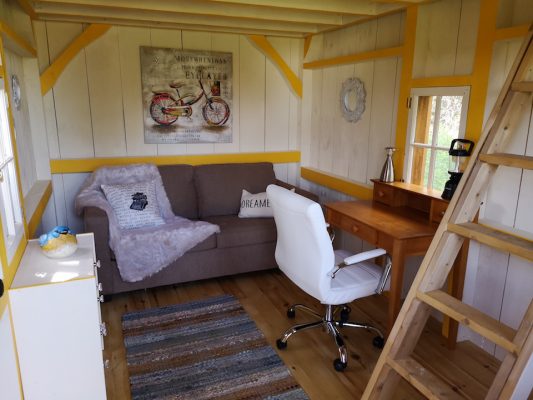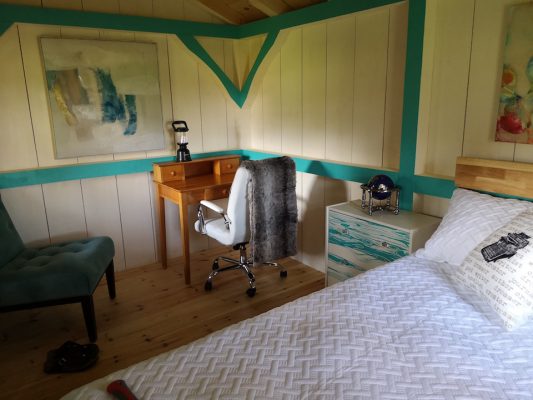 Literally, this is the spot to write the next chapter of your relationship! The Dreamer's Writing Farm offers stays in three off-grid bunkies named for the heavyweights: Munro, Atwood and Wagamese. Snuggle in the upstairs loft (mind your noggin') of the Atwood getaway, attend a workshop in the Dreamers Studio, or, kid around with the Nigerian dwarf goats known as The Brothers Grimm: Gus, Gunther and Griffin. This space is designed for both writers and readers who revel in the rustic. There's a charge station for devices but no power, heat or A/C. Instead? A composting toilet, outdoor kitchen and hammock for whispering sweet nothings.
Conveniently located near Bruce Trail access points, take your love for a hand-in-hand hike or a round at Northern Dunes. Maybe you'll be inspired to write your wedding vows or, simply, a list of local things to do together in the year ahead.
Kat McNichol is the founder of the Farm and Editor-in-Chief of Dreamers Creative Writing. Originally inspired by a Freud quote that compared dreaming to art, McNichol latched on to these words, "A piece of creative writing, like a daydream, is a continuation of… what was once the play of childhood." McNichol's dad also owned Dreamers Gallery, a small art gallery based in Lion's Head, Ontario.
Pairing suggestion: Tuck a Dreamers gift certificate inside a copy of Atwood's The Testaments or a blank journal and add a bottle of Writer's Tears Copper Pot Irish Whiskey.
Rates start at $42 a night, seasonal. Open the first Friday in June until mid-October. The Munro bunkie will be ready for winter glamping March 1st and with the help of a local SPARK grant, all bunkies will be winterized by the 2021 season and available year-round
---
Joy is guaranteed inside and out at this luxe and private getaway. Throw a 6-pack of Elora Brewing Company's Lady Friend IPA in the snow while you soak in an outdoor hot tub with uninterrupted views of the Grand River in the Elora Suite.
The four geographically-themed shipping containers at Inner Joy Getaways have been tricked out with all the chi-chi amenities of a boutique inn. The Fergus Suite tempts with a welcome package of chocolates imported from Edinburgh, Scotland. Maple syrup lovers will be easily convinced to book the Elmira Suite with local syrup samples at the ready for a sweet breakfast in bed. The St. Jacob's Suite will lure Picard's fans with a special stash of nut treats.
The modern repurpose of the 280-square-foot containers is a page ripped straight out of Dwell, from the carefully curated furnishing to the sumptuous linens to the slick lighting. All suites have BBQ's and kitchenettes so you can cozy up and stay put. Wellington locals Will and Laura Feenstra have created an experience that reflects their deeply steeped backgrounds in interior design and counselling. They've designed a 7-acre self-catering retreat near a pocket of conservation land. Depending on when you whisk your Valentine away, there's a grass tennis court (love-love), giant chess set, fly-fishing at your doorstep, putting green and silo-turned-gazebo for daydreaming.
Pairing Suggestion: Pick up a set of watercolour pencils or paint from Coates & Best and capture your stay on hard copy.
Rates start at $250 and include a complimentary fruit basket and free sunsets, year-round.
---
Written by Jules Torti
Feature image by