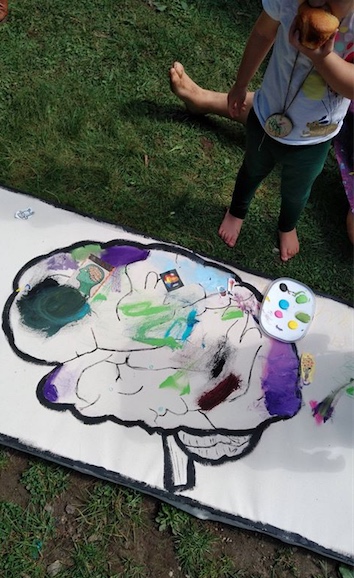 Local young people have teamed up with award-winning arts organization Sheatre as a new arts collective called Youth Elevating Youth (YEY) and this interdisciplinary group has received funding from the Laidlaw Foundation to offer youth arts programming beginning in fall 2018.
The programming kicks off with an Idea Jam workshop open to those 14-29 to contribute their thoughts on how to create safer spaces for integrating arts with discussions on social change, which will be held on Sunday October 21st, 2018.
I love the two words Idea and Jam together, I'll be honest.
Youth Elevating Youth was founded by a group of young adults with a vision to highlight the importance of creating inclusive local artistic opportunities. "We have experienced the benefits of arts programming for our well-being," says founding collective member Lauren Best, who is Owen Sound's Poet Laureate and owns an arts-based business offering music lessons and facilitation.
The collective will expand on these experiences, aiming to make a difference in the lives of young people living in Owen Sound and the surrounding area.
"We were surprised but so excited to receive both of the first grants we applied to as a newly formed collective, and we are especially proud to be mentored by a longstanding organization such as Sheatre," said Maxine Iharosy, collective member and local entrepreneur offering yoga, movement and mindfulness instruction.
The project will include a weekly open arts studio as well as weekend workshops during 2019, which will provide training in different arts disciplines, and offer support to create collaborative community arts projects together. There will be a summer-camp style intensive training next summer for ages 14-29 that will also present opportunities for emerging artists to be mentored across a variety of art forms.
Through this program, YEY will host 5 capacity-building workshops that will be offered to both emerging arts professionals, as well as those working in the arts who are more established in the community. "The aim of these workshops is to provide opportunities for the arts community to build knowledge, share skills, and make connections to help people with both their creative and professional practices." says Best
To register to attend the Idea Jam or become involved with YEY, you can email yeycollective@gmail.com.
Watch their Facebook and Instagram pages for upcoming details about events and follow this link to sign up for their monthly newsletter: http://eepurl.com/dFxM-X