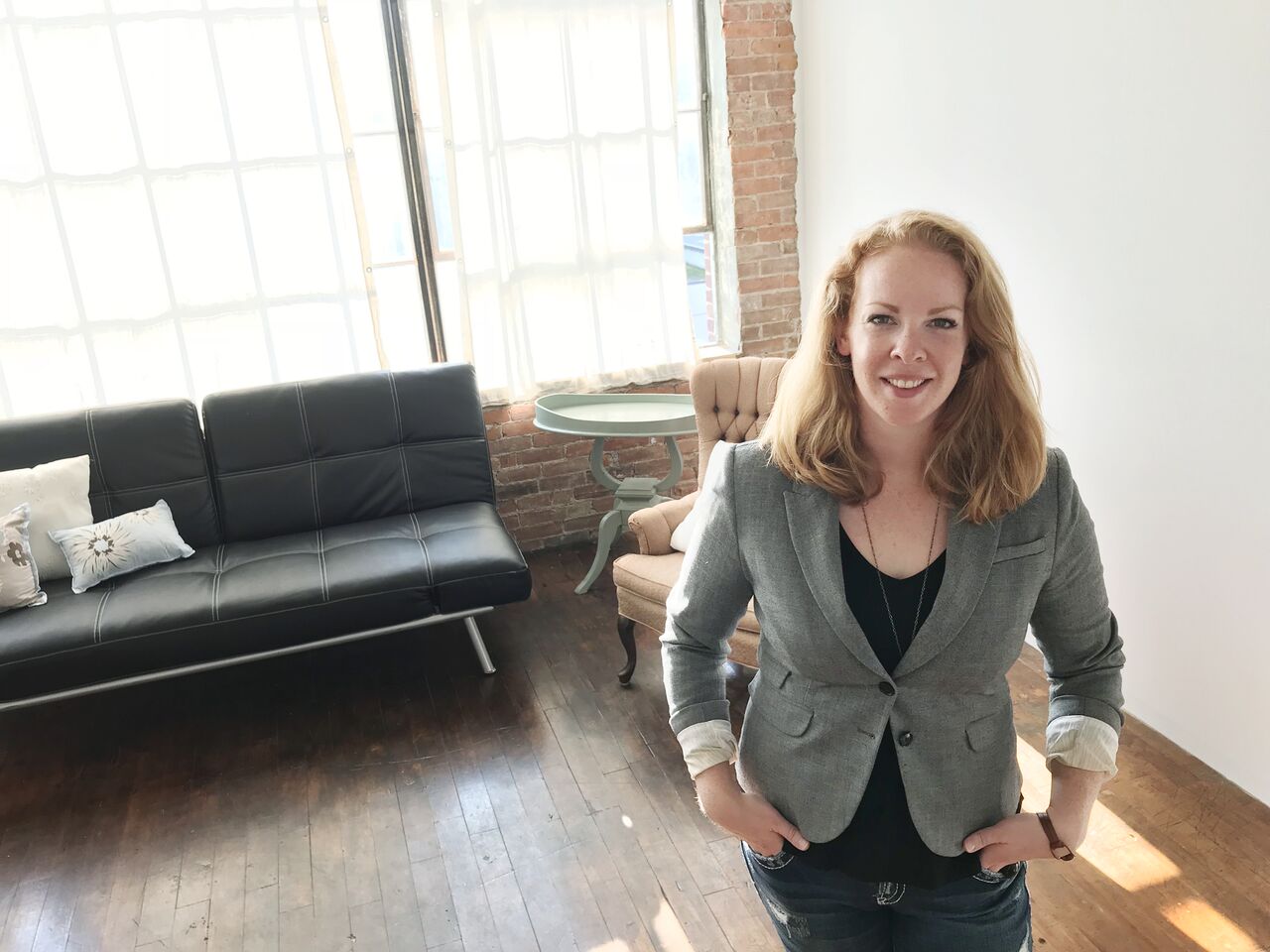 Rrampt has an About page. I don't think many people visit it; at least, I never assumed many people would. It's just got some mission statement stuff, a list of our staff (amazing dudes who make this whole thing happen), and shitty old picture of me. Every editor has a picture of themselves, right? I thought so.
But I forgot that there might be photographers out there who would see the pic and cringe at the artless, selfie-style shot. Well, that happened a couple weeks ago. Sophia Lemon, of Photograpy for Ridiculously Happy People , stumbled upon my site and decided something must be done with this terrible picture I had.
So she invited me to her new studio on 2nd Ave E above Austin Graphics. When I arrived, I walked up to the third floor of the old warehouse and down a hallway that was lined with the paintings of an artist who also calls the third floor home, along with a carpenter who rents space at the end of the hall. It all seemed very bohemian and I thought….if Rrampt ever needs a space (to do all the cool Rrampt things that we do) then I'm getting a spot here!
When I finally stopped daydreaming about a Rrampt headquarters and located Sophia's door, she opened it to reveal a cool, rustic space with exposed brick and old factory windows that brought in enough natural light to make me sneeze a few times. It was a simple space, furnished only with a desk, some standing lights, a chair, and a couch. "That's for the boudoir shots I do" she explained. I was fascinated, but I didn't inquire further.
Advertisement
And then she proceeded to go to work. She was a pro. I told her she had her work cut out for her, and she laughed, even though she's surely heard that a thousand times. But, I was kind of serious. I had been growing my hair the past year for Rrampt's next Lebowskifest (shameless plug: happening again in April 2018), and could look like a drowned rat at times – it's the price I gotta pay for having a great costume.
And I wasn't planning to smile…for…even…one…picture! Because, well I hate smiling for pictures.
But as we got started, the conversation was natural and I forgot I was having my picture taken. I was hanging out with a friend and of course, when I'm hanging out with friends, I tend to laugh.
Well played, Sophia Lemon, you got some great pics of a guy whose in the awkward stage of becoming the Dude from The Big Lebowski. Or maybe I just wanted to be Kurt Cobaine for awhile. But the result was that I now have a legit headshot for my fancy About page (note: it's not actually the one of me smiling, but it's a big improvement from my last one).
Now, if I can just convince the other guys at Rrampt to get under the hot lights in Sophia's studio and become Ridiculously Happy People too….
After we finished the shoot, I was fascinated about this whole Ridiculously Happy People project of hers. So I asked her some questions about it. And here's what she had to say:
What is it about photography that you love?
Truthfully… I really got into photography because I was good at it. I can swoon over some of the photos that I produce, and I think that's pretty cool!
Also, it might sound selfish, but I love making my clients cry. (Happy tears, of course.) When I hear that my brides and their families have spent a few hours crying over their sneak peek I feel like I've really accomplished something.
What happens if your clients aren't ridiculously happy? Will you still shoot them?
That is a very interesting question! Everyone has their happiness, and part of my mission is to show that. Sometimes it's a matter of helping my clients find it and tap into it.
Photography isn't about showing off who you think you should be. It's about about showing the best, most beautiful, and happy you. We all know that's not about being a size 0 with perfect, wrinkle-free skin and long, flowy locks.
Maybe you're the type of person who "doesn't photograph well." If that's the case, I bet someone close to you has told you you're crazy, or gushed over a photo of you which you hated. A lot of what I do is help my clients ditch the criticisms of their bodies and embrace everything they love about their lives.
How would you describe your space and what prompted the move?
The space itself has a huge factory-style window, a brick wall, and old hardwood floors. And that's just our space. The building also has a rooftop patio, and old-fashioned elevator, and is right by the harbour. It's an industrial type space, and all we've had to do is paint the walls a pale grey to modernize it. It's so versatile. I'll be photographing everything from families to beauty portraits, and boudoir to corporate headshots. We [her and some friends] are sharing this wicked space, and so far it's been a lot of fun.
What is your favourite part of being an entrepreneur in this area?
I love the natural landscapes of Bruce Grey Simcoe. I grew up here, so I might be biased, but the geographic variety is amazing. I can sit outside and work, I can go for a long hike in the middle of the day, and I can drive an hour in any direction to visit a different small community. I love spending time in a variety of local cafes, and each little community has its own unique personalities (and they're all so nice).
Being a photographer around here has its advantages too. I have access to some amazing sunsets and landscapes filled with nature and rustic architecture. I love the country, vintage, and rustic look.
When it comes to running a business, I find that I have so much support. Mostly everyone I meet is so open to sharing ideas and bouncing ideas off each other, which is so important to growing a sustainable business. Everyone wants to help out. I've met so many people who actively invest their own time just to help me succeed. This isn't something I could live without.
What do you do when you're not taking pictures?
If I had to choose one activity, I'd choose baseball. I play lots and lots of baseball. I also love to hike in the summer, snowshoe in the winter, and totally laze around in sweatpants.
But there's so much I do in my business which isn't shooting as well. Beyond the day-to-day administration, I do a lot of writing for my blog and mailing list (which I do primarily from my favourite coffee shops) and I host 2 podcasts (one on the business of photography and one on being ridiculously happy).
If you want to get on board with the Ridiculously Happy People ethos, you can subscribe to Sophia's mailing list here: http://sophialemon.com/subscribe
You can also listen the RHP Podcast: http://sophialemon.com/podcast
And of course, you can follow her on Instagram (where folks can follow more progress in the studio and other shenanigans): https://www.instagram.com/ridiculouslyhappyppl/
Written by Jesse Wilkinson