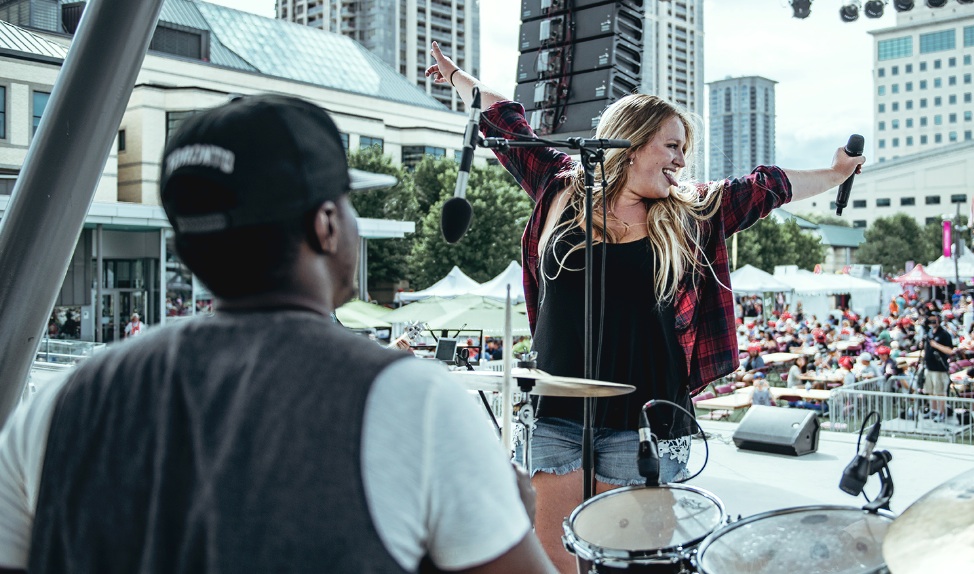 Stacey Renee says she's ready to show the world what Canadian girls are made of! And you can witness her do just that on Sunday evening in Owen Sound's inner harbour.
Renee has got rock n roll in her bones and writes burners like Run This, which will be sure to give audience goers at the TD Harbour Nights a tune to tap their feet and throw up their arms to. But she can also slow things down, though, with beautiful piano ballads like Concrete, and belt out soulful renditions of Proud Mary, R-E-S-P-E-C-T, and Valerie. Regardless of what genre she's singing in, her voice will captivate you.
She's on a tour this summer that will take her to Muskoka and Newmarket before landing her the opening gig at the Harbour Nights Series that takes place in Owen Sound's inner harbour every Sunday. The concert is free and kicks off at 7pm at the Welcome Centre.
Stacey Renee has entertained crowds across North America – opening for such artists as The Trews, Treble Charger, Suzie McNeil, and has been featured on Much Music's television show "disBand".
CBC Music's Top 10 Searchlight Finalist, Stacey has rocked the stage at Nathan Phillips Square, Yonge Dundas Square, Copps Coliseum, Ripley's Aquarium of Canada, Canada's Wonderland, Ontario Place, The Hershey's Centre, & many festivals, concerts, and events across North America. Stacey's electric performances, unmistakable talent, and unique edgy, yet soulful vocal styles are impossible to ignore.