Food and social media can be a dangerous thing. Sometimes you're scrolling through Facebook or Instagram and will eventually come across an ad for some fast-food place – your stomach grumbles, your mouth salivates and within minutes you've hit a drive-through and are now sobbing into the wrapper of your ¼ pounder feeling like a garbage human. It's ok we've all been there, it happens to the best of us but there is hope! One chilly day earlier this year at work I was scrolling through Instagram and came across a post from Sprout mentioning a sweet potato soup and before I knew it was down the street with one in my hand. Instead of the usual feelings of shame and regret, I was satisfied and full of energy!
Sprout, a plant-based and gluten-free smoothie and snack bar in downtown Owen Sound, is run by Janelle Smart, and they specialize in quick and healthy food – the perfect combo.
"I graduated with a degree in Health Studies in 2016 but instead of pursuing a career in that field, I decided to take the leap to follow my passion for nourishing food and start my own business", Janelle tells me.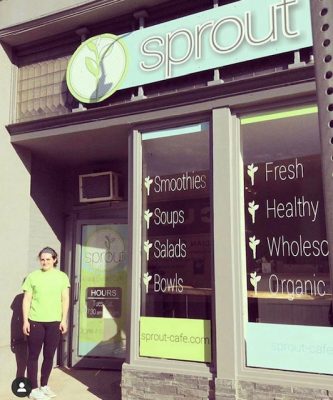 Unfortunately, a lot of us aren't really living up to our usual on-the-go lifestyles at the moment with COVID-19 in effect, but like most small businesses Janelle got a website going and adapted, making her delicious food and drinks available again. "Before the pandemic, I had always had online ordering at the back of my mind as something that I eventually 'might' want to try," she says. "I'm grateful that I was able to transition into online sales and curbside pickup, at first it felt like such a strange thing and now it feels 'normal'. It was a slow build (and a challenge for a person like me who isn't very tech-savvy), but people have gotten onto the preordering concept quite well now! I am hoping to continue on with and build the online platform heading into the future."
Like many businesses Janelle is taking things day-by-day and trying to adapt to what will become "the new normal." Being a business owner feels exceptionally unstable, uncertain, and scary right now, as does the job market in general. We really need to support each other as much as we can moving forward. If we can make it through this year with a long bridge construction project, and a pandemic, I think we can make it through whatever challenges come our way in the future!
---
Written by Russ Walsh, owner of Sour Cat Records