On a cold and rainy November night in downtown Owen Sound, I found myself at what must have been the coziest spot in town. Twinkling lights, warm conversation, clinking glasses and rich aromas coming from the kitchen – I wasn't dreaming, but attending one of Eat Local Grey Bruce's local food nights.
Hosted at The Milk Maid, a local cheese and gourmet food shop, the dinner series is one of the many ways Eat Local Grey Bruce connects consumers to local food and producers. As a non-profit, farmer-led food co-op, Eat Local is made up of more than 50 local producers whose products are available via an online grocery store and delivery service throughout Grey, Bruce and Simcoe regions.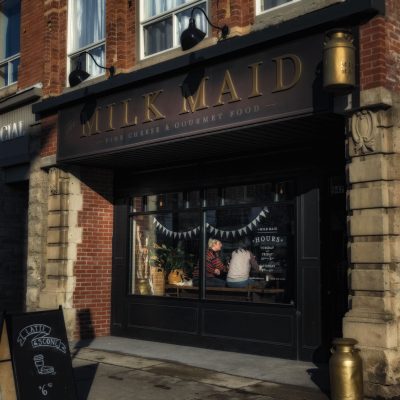 The organization first held a local food night with The Milk Maid back in 2018, and, due to popular demand, has continued the series with dinners this past summer and autumn, and one set for February 2020.
Eat Local designed the dinner series with a few key goals in mind. "A large focus of our work is to connect people to local food in the region, but also to build community and cultivate meaningful conversation about the kind of food futures we would like to create – and the relationships we build in that process – both to the land and others around us," explains Hannah Batten, Eat Local's outreach coordinator.
The choice to host the dinners at The Milk Maid was an easy one. "Eat Local has always respected the amazing space that The Milk Maid fosters both for people seeking out a cozy and delicious food experience and the focus on supporting local producers and businesses," continues Batten.
The Milk Maid's owner, Cody Hawes, is also the chef for the local food nights at her shop.
"I take a community dinner approach with the Local Food night series," she explains. "Each person serves themselves and can choose to chat with familiar faces, or acquaint themselves with new friends. I like that people can serve themselves and decide on their portions and come back for seconds if there is a particular dish that spoke to them."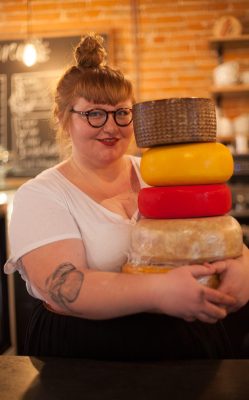 When planning the menu, Hawes' goal is always to make meal preparation with local ingredients seem accessible, so that people walk away from a meal feeling inspired, and thinking 'I could make that!' she tells me.
She also loves to choose ingredients that are offered from farmers and producers whom she knows personally. For example, she served chicken drumsticks from Burdock Grove near Williamsford, whose owners, Jason and Marcelina, are people who she regularly sees in her community. "They support my business, and I support theirs. Jason's high quality poultry never disappoints, and Marcelina is my favourite potter, which makes it an easy decision for me to select Burdock Grove poultry," she continues.
Hawes also especially likes the fresh vegetables coming from Twin Creeks Farm in Meaford. The Milk Maid is one of the delivery pick-up locations for Eat Local Grey-Bruce in Owen Sound, and the person who drops off the delivery each week is from Twin Creeks Farm. "I appreciate the accountability that comes with knowing who grew my food, and the good feeling that comes with the direct exchange of my money to a local producer," she says.
For our local food night dinner, Hawes prepared a hearty Brussel sprouts and barley risotto with pecorino; warm kale salad with roasted golden beet and butternut squash with goat cheese; seasonally herbed chicken drumsticks in Ontario white wine; and apple cake with whipped Miller's Dairy Jersey cream to finish.
Safe to say, we were all incredibly satisfied by the delicious meal, and as I chatted with my table mates about what brought us to the event, I realized that one couple were neighbours with the owners of Burdock Grove. "You know, Jason – the chicken guy," said the man. It was great to get a first-hand glimpse of neighbours supporting neighbours, and the direct link between people, place and food and the sense of community and camaraderie that's created.
If you're interested in getting involved with Eat Local, they have lots of upcoming events and initiatives. On November 30, the organization is hosting its first ever Harvest Gala at the Bruce County Museum and Cultural Centre in Southampton. The evening will feature a gourmet three-course meal, all made from local ingredients, and prepared by renowned chef and Eat Local producer Chris Bishop of Peasemarsh Farm in Flesherton. The fully-licensed event will also include a silent auction, door prizes, live music by local band Moondance.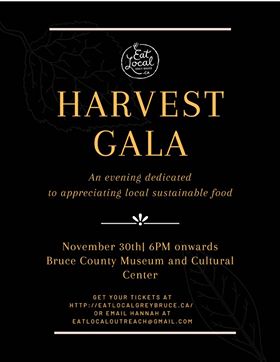 Stay tuned for more details about additional community events, including "Speed Date Your Farmer," where attendees can meet and learn more about Eat Local's producers and staff, with some great food on the side. Also slated for 2020 are a documentary food series and a speaker panels on local food systems.
---
Written by Emma Bell
Feature image by Zak Erb