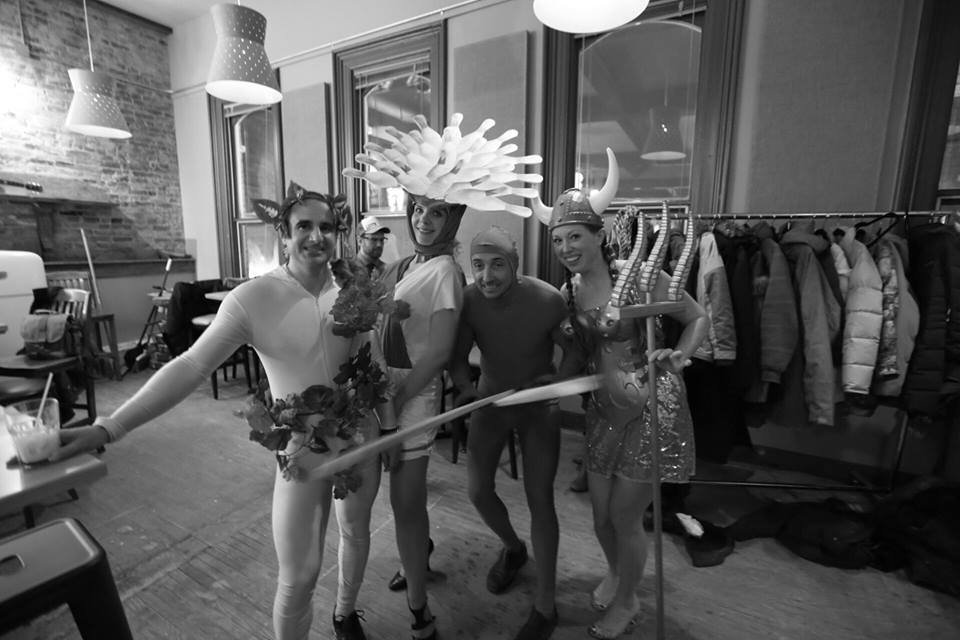 Well, we did it.
We pulled off the biggest Lebowskifest Owen Sound has ever seen! We had Dude, Walter, Maude, Jesus, Liam, The Stranger, Marty, Cynthia, Nihilists, Autobahn, Karl Hungus, Bunny, the Pope, Ralph's clerks, and even the rug that ties the room together.
I don't think I've been as excited as I was watching everyone enter the Heartwood Hall dressed in their finest Lebowski-inspired get ups before we all boarded the bus for the bowling alley.
Instead of Rrampt telling you all about our very first event, we thought we'd just show you some pictures and let you judge for yourself whether you want to come next year (ya, that's right – we're making it an annual event).
But first, here's a recap of the prizes:
The top bowling scores went to Liam (Chris) and one member of Autobahn (Noel). They both walked away with some sweet digs from the merch table. Third was Cynthia (Aiyana).
Best costume award went to the Pope who shits in the woods. He took home an Abide hoodie.
The following also won a best costume awards and took home artwork by Paul Smutylo:
Vince as Jesus
Josh as Marty
Lori as Maude
Mabel as Maude
Honourable Mentions for costumes go to the following:
Paul as Nihilist
Katie as Maude
Aiyana as Cynthia
Don as Jesus
Jade as Ralph's clerk
Steve as Walter
Todd as Marty
Sarah as Marty
Here are a few scenes that were recreated last night. We'd like to thank all the photographers last night: Jen, Lori, Josh, Lisa, Todd, Stu.
Here's some excellent shots from Stu Manwell (Woo, the carpet pisser)
So, thanks everyone for coming out and (shut the f— up Donny!) taking part in Owen Sound's Lebowskifest 2017. See y'all next year as this whole darn human comedy keeps perpetuating itself down through the ages. Look at me, I'm rambling again.
From your host and narrator, The Stranger, take care and I'll catch you on down the road.
Lebowskifest shirts can be ordered this week by emailing us rrampt@gmail.com.
Shirts are $30. Hoodies are $40.