Opening in late summer 2021, Highfive is a brand-new coworking and social space in Owen Sound's River District dedicated to fostering an environment of creativity, professionalism, and community.
From Monday – Friday 8am – 5pm, Highfive is available for entrepreneurs, remote workers, designers, writers, and anyone else across Grey-Bruce who wants a unique space to work in, collaborate, create, innovate, network, or think of ways to change the world. We are a members-based cowork spot so email us and set up a flexible schedule that works for you.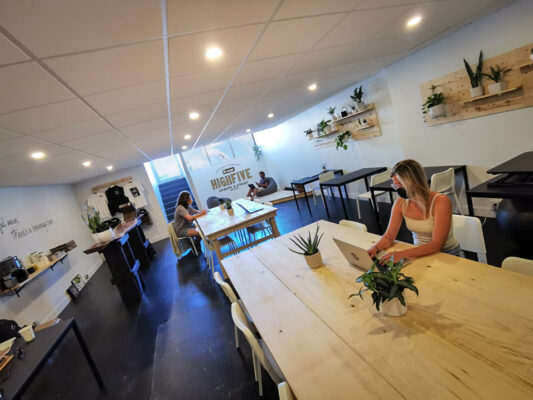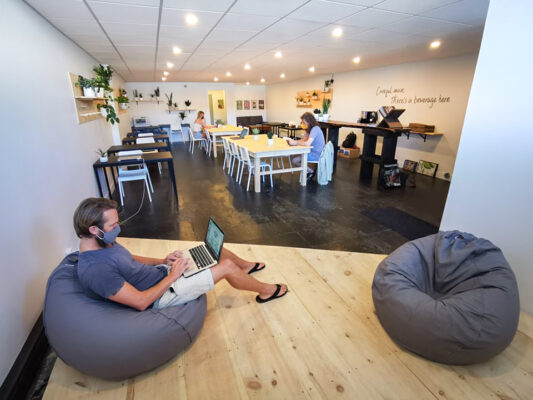 Outfitted with top-notch wifi, free fair-trade coffee, plenty of seating (tables, desks, standing desk, bean bags, couch), spotless washrooms, a kitchen, good tunes, complimentary printing services, and fellow like-minded people embracing the remote lifestyle. You're an adult; we give you a key, and you come and go as you please.
We're constantly updating this space and can't wait to host the occasional live show on our new mini-stage – when we do, monthly, bi-annual, and annual members get free access.
Email us at info@rrampt.com and apply to become a member for the week, a month, or a year.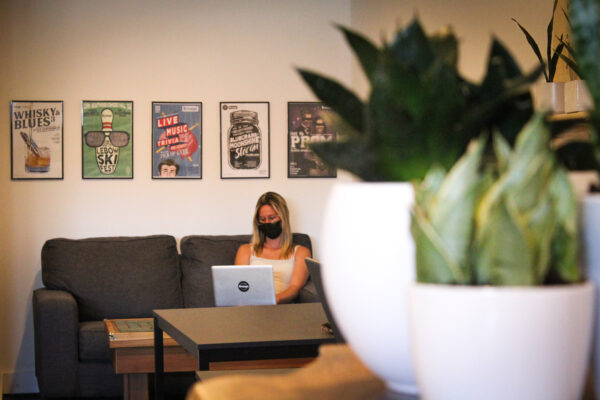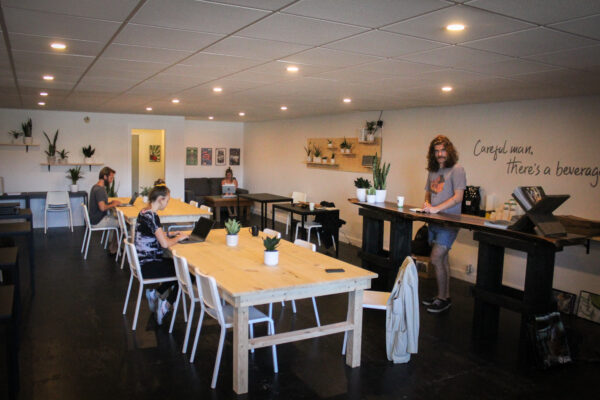 Our Values
We're all about inclusivity and positivity. Highfive is a safe space, open to absolutely everyone. Feel welcome, and feel encouraged to make yourself at home. With any luck, Highfive will become an authentic representation of our increasingly progressive and multicultural community here in Grey Bruce.
Address: 235 9th Street East, Owen Sound
Rates for Highfive Cowork
Month $225+HST (Come and go as you please all month long)
Month Lite $150+HST (12 days of your choice within one month)
Month Ultra Lite $50+HST (4 days of your choice within one month)
Week $60+HST (Come and go as you please all week long)
Week Lite $40+HST (3 days of your choice within one week)
Facility Rental Rates
Have a team meeting coming up? Highfive's central downtown space will be available for rent on weekends. High-speed wifi, coffee, and printing are all included.
3 slots available (9am-12; 1pm – 4; 6pm – 9) each Saturday & Sunday.

Includes entire use of space with coffee bar, kitchen, wifi, Bluetooth speaker, projector with screen, and printing.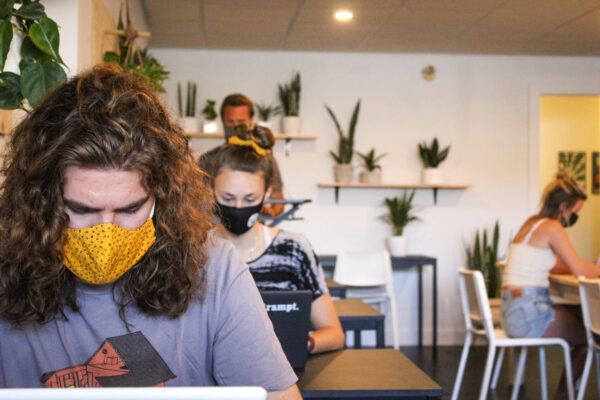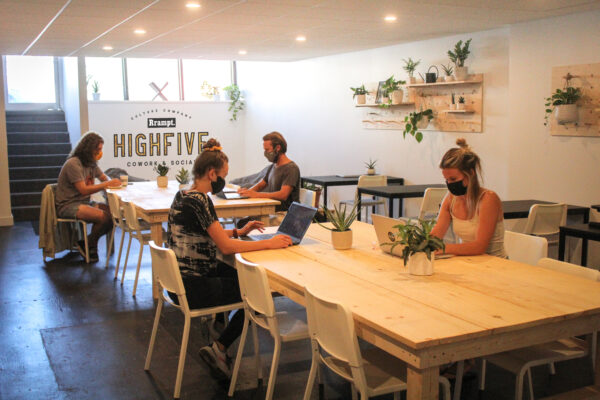 COVID-19 Stuff
With current and ever-evolving COVID-19 regulations in mind, we're doing what we can to ensure Highfive members can safely maintain a distance of 6 feet at all times. This means our building will have a capacity limit of 30 people, for now.
---
Masks/Hand Sanitation
Government regulations require a mask to be worn indoors with a few exceptions (food and drink consumption and when you're seated at your work station). Hand sanitizer will be available for all members entering the space. Please wash up and mask up, y'all.
---
Screening
Anyone entering the space must first self-screen for COVID-19 symptoms. If you have any COVID-19 symptoms, please don't enter the building. In addition, if you've been in contact with someone known to have COVID-19 or have travelled outside of Canada, you'll be asked to not attend Highfive for the standard two weeks as recommended by the provincial government.
---
Cleaning
Cleaning of all our shared spaces, the kitchen, and washrooms will be happening on a regular basis. We also clean our shared desks daily. We ask that all coworking and facility rental clients wipe down all surfaces after use with the cleaning products provided, but rest assured, it'll be sparkly clean when you arrive each day.
If you can, we're asking all cowork members to bring their own coffee or travel mug to limit sharing of cups and mugs for complimentary coffee. Our fridge and microwave are available for shared use. Please label your eats.