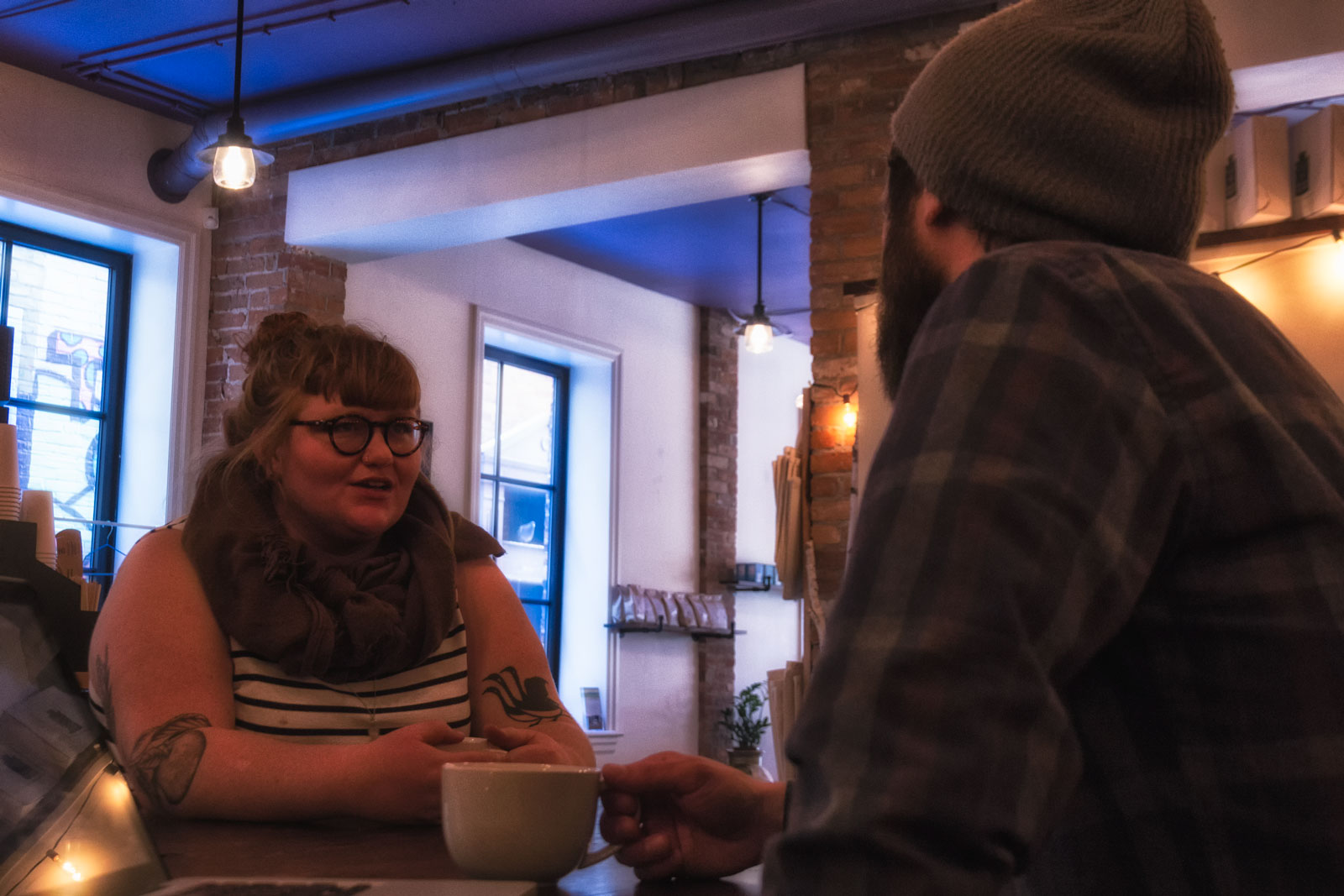 "You don't need to be afraid of cheese," Cody Hawes says at the The Milk Maid downtown Owen Sound. It's a Friday afternoon and natural light is pouring in from the many windows. It's one of those perfect days to leave work early and enjoy an afternoon drink with friends, and there's a group of ladies doing just that in the front room.
I'm hanging with Cody in back where the windows look out the alleyway full of murals that stretch all the way to Casero's. She's made me a decaf coffee in a mug as big as my face and we're settling in for a long overdue chat.
Her adage on cheese is not aimed directly at me, but it definitely applies. I was intimidated by that delicious aged dairy for a long time until I decided to put an end to my ignorance, meandered into Milk Maid and asked Cody for a recommendation. She pointed out an Irish Whisky Cheddar (she must have sensed the Irish blood in me and my penchant for Jamesons), and I've been hooked since.
I kick off our conversation with the most important question: what's your favourite cheese right now?
"St Agur," she says without hesitation. "It's from France. It's a blue cheese and it's verging on triple cream – very buttery. It was originally made in the 80s, named after a saint that doesn't exist."
She knows her stuff, which helps her find cheeses that are excellent, but also priced right. "I want them to be accessibly priced," she says. It's tricky, and it takes time. The same goes for wine. "Right now I've got to find time to seek out wines from Ontario that are affordable that people want to drink. It's mostly time. I could spend twelve hours figuring it out, but I don't have twelve hours right now."
Cody is building a wine list to complement her new hours – she's just started opening on Friday and Saturday nights until 10pm to offer people a place to have a glass of wine or beer before heading to a show at Heartwood Hall or the Roxy. Or just for those who are looking to share a cheese plate and drink in a relaxed setting. And after realizing how much Ontario wine contributes to the local economy, her goal is stock mainly provincial vintages.
"I feel like Grey County has been very generous with me."
Cody took over the business from Jen Smith, who worked hard over two years to build Milk Maid into a well known name in Owen Sound, and when she decided to focus on her massage therapy practice and her family, Cody was the perfect choice to pass the torch to. "Jen…offered to sell me the business, which was amazing and terrifying because…the idea of being an entrepreneur was something I never thought about. I would never get approved for a mortgage. This was a private sale. She's taught me everything I need to know," Cody says.
It is clear from chatting with Cody, that she is extremely excited to be part of an emerging group of young entrepreneurs downtown, who all seem to want to support each other, "The Caseros crew have been some of the most supportive folks. They're in here pretty regularly."
Having been someone who moved to this area to afford nice housing and be a part of a community, Cody has become an advocate among her peers. "I've got friends who are saying that 'oh my contract is up (because people only work contract jobs)' or 'my rent's so expensive' [and] I want to say to them 'look at these really cool places that are here [in Grey/Bruce], you know, and I want to be one of those places."
Morag Kloeze's Mudtown Station is due to open this spring, and there's rumours of a new tattoo parlour coming to downtown, and a young barber just opened shop. Combined with successful places like Heartwood Home and Hall, Bare Birch, The Artist's Coop, Her Wellness, SweetPea Wholesome Baby, and Frog Pond, just to name a few, an afternoon in the city centre can warrant some serious leisure between shopping, coffee, wine and food. Oh and there's that river that winds through town. Ya, that thing.
'I spend my weekdays in Toronto, but my weekends up here and I'm moving here full time next year.' I hear this everyday.
But with all this talk about entrepreneurship, she is also clear on the challenges ahead.
"I had a lot of advice. By becoming a business that's open late, it means I'm here until 11pm. I don't go out now.(laughs). It's not like I have a kid, but I have a kid from 8am until 11pm, you know." Also, she realizes the challenge of having "competitive products that are made locally." The most recent challenge, though, and albeit a good one, is "trying to figure out the pattern of what Friday and Saturday nights will be like."
Although she's always known how great this area is, Cody had a moment last year when she realized just how special it is: "I was driving through Grey County, seeing the valley and saying to myself: I love this place! It is beautiful and it has always been so gracious. I feel like Grey County has been very generous with me."
After meeting her partner, Ann Marie (who is sitting one table over, working diligently and who shares a smile with Cody when her name is mentioned), last year and being offered the business, she is ready to firmly plant some roots here.
And she's only one in a growing trend of people moving to this area from larger centres. Young people are coming here to buy a home (because it's actually affordable), and retired folks are coming because it's gorgeous. And when people visit this area, they recognize that there's something cool here: community. And plenty of potential.
"Everyday someone comes in and says: 'I just bought this cute place near Williamsford, or Thornbury, or Walters Falls. I spend my weekdays in Toronto, but my weekends up here and I'm moving here full time next year.' I hear this everyday," she says.
When we talk about other cool things Milk Maid's doing that people may not know about, the workshops come up. "I've introduced scone workshops, which are actually amazing. It ended up being such a good idea, because people love it. They can just come in the shop and I sell them a ticket. The next one is Februray 19 and then March 5. But if you've got 5-10 people, you can book your own workshop. And then I'm looking to do pasta workshops and pastry workshops. And pies."
Zak Erb, who's sitting with us taking pictures, ducks his head out from behind the camera and chimes in: "I've had your pies, you should definitely do that!"
She's got two customers for sure right in front of her. And by the sounds of it, she's got more coming in everyday. When she reflects on the direction she sees this area heading and the new people coming here, she smiles and says "Oh yes, this was a good choice!"
But she also wants people to know that the space can be used for private events. Scenic City Film Festival rented it out for their Grub Crawl last fall and other groups have booked it out for Christmas parties. And it's also a great space to come in and do some work in a chill atmosphere (I actually returned a few hours later with my Whisky and Blues crew to talk final details over a MacLean's Cherry Porter).
There's something else she wants people to know, and it's in regards to her assertion that no one needs to be afraid of cheese. "You can taste any cheeses we have, but people are often too timid. I didn't know anything about cheese until I started working here," she says.
I'm almost done my coffee by this point, and I know Cody has a million things to do. She's a busy person these days, but she's always got time to chat with customers and get them excited about her cheeses. "I'll just cut you a piece and tell you about." Sounds pretty simple.
So, don't be afraid. Go in and take her up on the offer. I did.
Written by Jesse Wilkinson
Photos by Zak Erb