When you picture a retail Cannabis store, what comes to mind? Are you envisioning something that resembles an Apple store?
I sure wasn't. But when I step into the new Cannabis Grey Bruce to chat with Mike Cochrane, I feel like I've just wandered into a high-end retail shop (with emphasis on the 'high'). We're talking classy to the max – glass display cases with computer screens, clear plastic pods on retractable wires holding product at each station.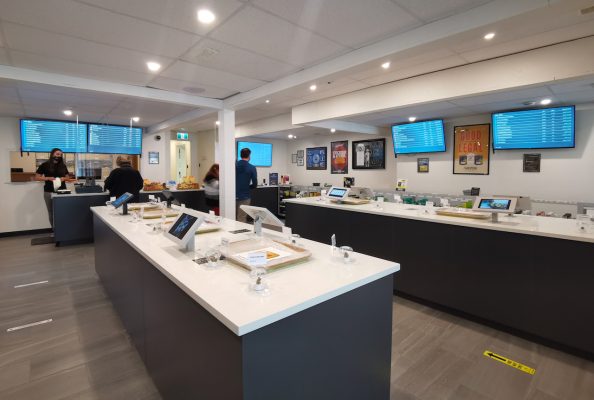 But while the store has a classy, modern vibe to it, there are a few differences to an Apple store. Cochrane has placed some cherished items along the walls like his father's old Satellites lacrosse jacket from the 50s, and his nephew's NHL plaques (Senators' Cody Bass). My favourite is the Harley Davidson pinball machine in the corner that he's waiting on his electrician to fix. That alone is worth a visit to rack up a high score.
Along the west wall of the store is a long shelf dedicated to promoting other local businesses – a place to put their materials, posters, and business cards for cannabis customers to check out before they scope out the green. This is not Cochrane's first business – it's his third, actually – but cannabis is a whole new industry for him, and he's learning what his customers want. He's even trying cannabis again himself after admitting he hasn't used it since high school. He's in the industry to serve the community in a sophisticated way, not unlike the LCBO in many regards.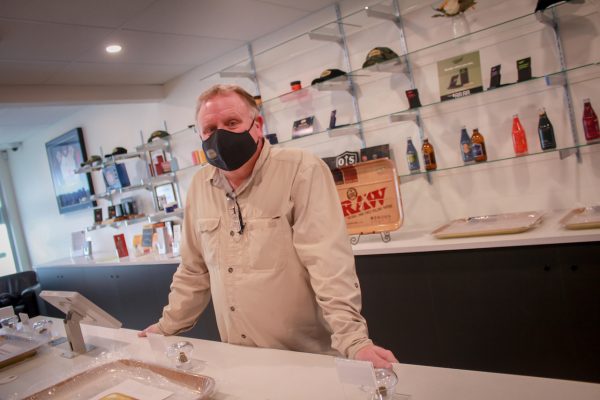 And like many high-end retail shops, he places service as paramount – better than most stores I've ever been in. It's not pushy, but helpful and informative. During my visit, I count six employees ready to answer whatever questions customers throw at them – they're just not able to answer anything health-related because they're strictly a retail store. If you want medical advice, talk to your doc.
It's busy during my visit and each employee is engaged in conversation about CBDs and THCs. And this is the place to do it – between drinks, gummies, vapes, topicals, and the straight up sticky-icky, people have some serious choice in how they want to ingest cannabis. Because well…people like choice.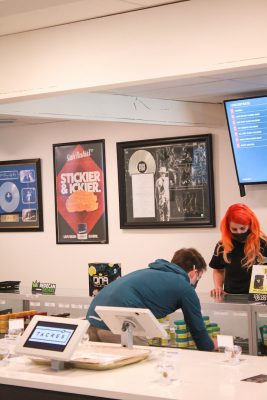 And even for those who've grown their own and are currently drying their plants in the basement right now, they can come in and try different strains and products. Or maybe an edible or a drink. You can consume cannabis in pretty much any form now and Cochrane's got them all in stock.
After running Service Master Grey Bruce for many years, Cochrane was attracted to the authorized retail cannabis market because of its potential and the fact that it's highly controlled. "It's the most regulated industry in Canada today," he says. "I like that part."
He orders his product through two different licensed producers, who are both quality assured and regulated by the provincial and federal government. "They've both been excellent," he says. "I've been happy with the inventory that's available."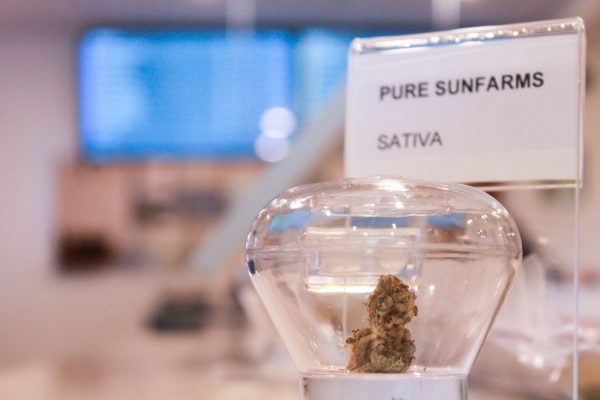 Many people cite the prices as a barrier, but Cochrane disagrees. "Customers are telling me my prices are competitive," he says. "Price points will continue to come down."
He's excited to enter the cannabis industry because he's doing it his way – providing a high quality product with great service. But better yet, he's helping to dispel the stigma of cannabis and bring it out in the open, where adults can make up their own minds and purchase high quality products in an approachable atmosphere. The Owen Sound store is his first location, but he plans to have four in Grey Bruce. His next location will be Southampton in 2021.
Have their been any surprises for Cochrane?, Other than how busy he's been and the type of clientele he's serving (hint – a lot of professionals), it's been as expected in the cannabis game.
"It's everything I thought it was going to be," he says.
Cannabis Grey Bruce is open seven days a week and is located at 236 8th St E.
Words by Jesse Wilkinson
Photos by Nelson Phillips
---