Publican House Brewery – Peterborough Ontario
Publican House Brewery has been a Peterborough staple since it opened in 2008. They've won several titles at the Ontario Brewing Awards, including gold medals and the Newcomer of the Year Award.
"Wait a minute… Peterborough? That's nowhere near Grey Bruce!" I can already hear you say.
Well, I was in Peterborough and thought I'd take Blood, Sweat, and Beers on a Rrampt Rroad Trrip because beer is good, but craft beer is better, no matter what county you're in.

Advertisement
Light Lager – 4% ABV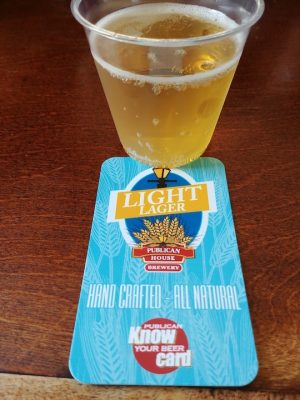 Appearance
Pale hazy yellow with minimal head

Nose
Malty, light aroma

Taste
This checks off all the lager boxes. It's just slightly bitter with a mild grassy taste

Body
Light bodied, crisp, and easy drinking

Where to Enjoy
As a passenger on a docked pontoon boat at somebody else's cottage.

---
Paddler's Ale – 4.5 % ABV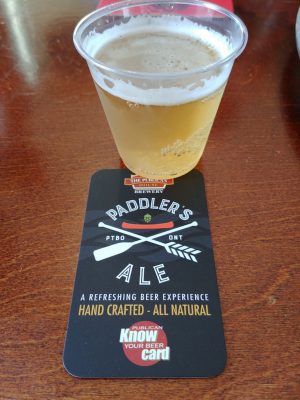 Appearance
Pale, transparent golden yellow

Nose
Very faint, almost no discernible scent

Taste
The Paddler's Ale is citrusy, leaning towards lemony. The best I can describe it is as tasting the way the lemon balm plant smells.

Body
Smooth drinking and light

Where to Enjoy
I would have this around the start of December when you can still see the grass and fallen leaves under the thin, lacy snow

---
High Noon Wheat – 4.5%ABV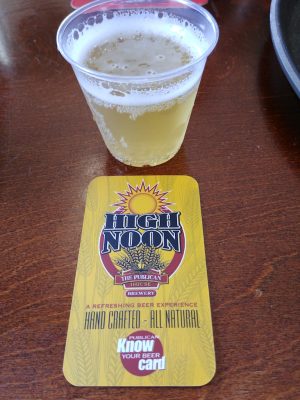 Appearance
Hazy, pale yellow

Nose
It has the faintest bready smell

Taste
It's subtly hopped… enough to give an already refreshing wheat beer that fruity edge without tipping over into the familiar hoppy bitterness.

Body
Smooth, with a bit of an edge

Where to Enjoy
It's good beer to have while doing something active, be it hiking or just kicking a ball around with your niece or nephew.

---
Pub House Ale – 4.8% ABV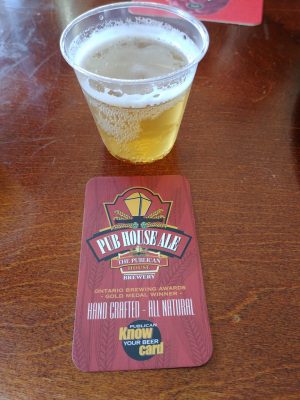 Appearance
Transparent gold

Nose
Doesn't have a distinct smell

Taste
The Pub House Ale has medium bitterness, a hearty malt flavour, and a clean finish

Body
It's extremely light bodied

Where to Enjoy
It's a good beer to have after a long journey.

---
KLB Raspberry Wheat – 4.5% ABV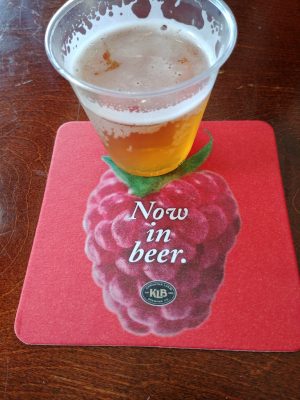 Appearance
Transparent amber

Nose
Fresh raspberry with a pleasant background graininess

Taste
Raspberry to start, lingering at the tip of the tongue, with the wheat making a special guest appearance at the end

Body
Medium bodied and smooth.

Where to Enjoy
During the last night of October when the cold weather is starting to creep into the air

---
Square Nail Pale Ale – 5.5% ABV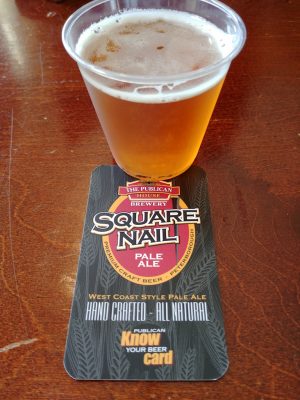 Appearance
Medium amber colour

Nose
Very faint hoppy smell

Taste
The Square Nail has a distinct hoppy flavour. It's bitter, but not overpowering, and it fades quickly to reveal a pleasant oatiness.

Body
Medium bodied and smooth

Where to Enjoy
It's good beer to have while watching your neighbours put away their patio furniture.

---
Final Thoughts
The brews at Publican House are excellent introductions to the world of Craft Beer.
They're tasty but accessible. You get the flavour and the direction each style will go in, without being overwhelmed with bitter hops or smoky roasted grains.
It's a great testing ground for people on the first few steps of their microbrew journey. So the next time you're in Peterborough, you should stop in.

---
Written by Andy Elliott